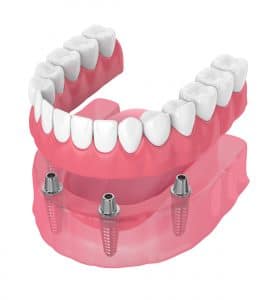 For people missing most of their teeth or all of them, dentures provide a solution that allows them to eat and speak again with ease. While effective, we have an alternative to removable dentures that is more secure and natural-looking. In today's blog, your El Paso, TX, dentists talk about the benefits of the unique All-On-4® system.
An Alternative to Removable Dentures
A removable denture consists of an acrylic base, which is designed to look like gum tissue, and a full row of teeth crafted from durable and lifelike materials. Suction keeps the prosthetic in place, and some patients may opt for assistance with a special adhesive. While effective, they tend to require placement every 5 to 10 years as the shape of the jaw ridge changes. However, with implant dentistry we don't need suction. Instead, we insert dental implants, made from biocompatible titanium, into the jawbone. They bond with the bone tissue like natural tooth roots, a process known as osseointegration. This stimulates bone tissue growth to prevent changes to the jaw ridge, so your prosthetic can last for decades!
The All-On-4® System
Typically, implant dentures rely on between six to eight dental implants per arch, which means there must be enough jawbone tissue to support them. However, for many losing a number of teeth has caused the body to stop sending doses of calcium and phosphorus to the jawbone, leading to the bone tissue to become nutrient starved and break down. Fortunately, we can still help with the All-On-4® system. We use four specially placed implant posts, which means this can help those that have lost jawbone tissue. They will be placed on specific areas to maximize the amount of pressure they can absorb and to ensure stability. We then craft the prosthetic portion based on detailed impressions of the smile, creating a denture that looks natural and reflects your facial structure. We attach them and return your smile to an optimal state!
Long-Term Benefits
Since these are fixed in place there is no need to remove them for cleaning or soaking, which means they function more like natural teeth and last much longer. In fact, implant dentures have been known to last for decades in some cases! You will once again be able to eat a variety of foods, improving your overall nutrient intake and helping you enjoy better health. You can also speak and laugh with confidence, as these never slip when you eat or speak. If you have any questions about addressing more severe cases of tooth loss, then contact our team today.
TALK TO SUNNY SMILES IN EL PASO, TX ABOUT IMPLANT DENTISTRY
At Sunny Smiles in El Paso, TX, we can help you enjoy a long-lasting and lifelike solution to multiple missing teeth with our implant-secured prosthetics. For more information on our dental implants, contact your El Paso, TX, dentists at Sunny Smiles on Dyer Street by calling 915-859-7000.