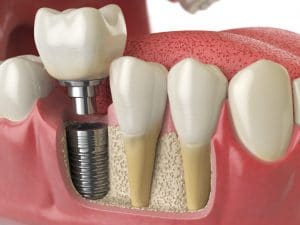 Traditionally, dental implant placement meant inserting the dental implants and then waiting a period of several months before proceeding with the placement of the restoration or prosthetic. However, your El Paso, TX, dentists can actually provide a new smile in a single visit. In today's blog, we're talking about same day dental implants.
Placement and Benefits
This option offers a number of benefits over traditional tooth replacement options. For example, bridges rely on crowns placed on natural teeth to stay in place. Dentures need metal clasps or suction to stay in place. These options usually need to be replaced as the jaw ridge changes shape, about once every 5 to 10 years on average. However! Dental implants are placed into the jawbone via oral surgery, at angles that ensure the absorption of bite forces and pressure. Since they stimulate the growth of jawbone tissue, the ridge doesn't change shape over time, meaning your new teeth could last for decades, possibly a lifetime.
The Same-Day Process
We first look at your current oral health to identify any underlying oral health issues that could impact your placement, such as infections or advanced gum disease. If we discover issues like these, then treatment will need to be administered to correct them and restore oral health. We then insert the dental implants and in the same visit, attach a crown or a prosthetic, such as a bridge or denture. When you leave, you do so with a whole and beautiful smile, as the crowns and prosthetics are designed to blend with your smile and reflect your facial structure. You don't have to live with embarrassing gaps in your smile.
All-On-4®
We also have All-on-4®, which can be placed in one visit and also use fewer implants to secure a set of dentures. Usually, between six and eight per arch are need, but with this option we can secure a full set of dentures with as little as four specially placed dental implants per arch. If you have any questions about tooth loss, or about the steps need to restore the gaps in your smile and maintain your new implant-secured prosthetics, then contact our team today. We want to help you enjoy a full smile again, not just to improve esthetics, but to also protect your oral health from a wide range of issues, from trouble eating and speaking, or a higher risk of issues like tooth decay, gum disease, TMJ disorder, and even chronic teeth grinding (bruxism).
TALK TO SUNNY SMILES IN EL PASO, TX ABOUT IMPLANT DENTISTRY
At Sunny Smiles in El Paso, TX, we want to ensure our patients continue to enjoy a full and functional smile. To learn more about treating tooth loss, then contact your El Paso, TX, dentists at Sunny Smiles on Dyer Street by calling 915-859-7000.