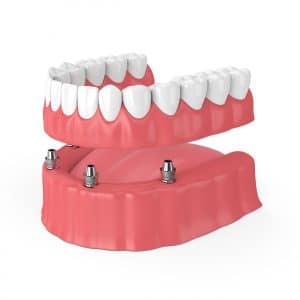 If you have lost jawbone tissue and developed changes to your facial structure as a result of tooth loss, you may assume implant-secured dentures are no longer within your reach. However, with the unique All-On-4® system, your El Paso, TX, dentists can offer a secure and long-lasting solution to advanced tooth loss, so you can smile with confidence again!
What Makes Them Different from Other Implant Dentures?
Typically, a set of implant dentures relies on between six to eight dental implants per arch. After being inserted, the placement area will need to heal and the new implants bond with the jawbone tissue, a process that could take between three and four months. At this point, we attach the custom-made prosthetic portion to them. However, to qualify you need to have enough jawbone tissue to support them. Unfortunately, when people lose teeth and don't seek treatment for a significant amount of time, the resulting loss of jawbone tissue could mean you don't qualify without first undergoing a jawbone grafting procedure to sinus augmentation.
But! With All-On-4® we only use four dental implants per arch. They will be inserted at specific angles to be able to absorb bite forces and pressure and support your new teeth. Even if you've lost tissue, these can often be placed without relying on grafting or augmentation first. In addition, we can attach a temporary prosthetic same day, so in the time between implant placement and the completion of your final denture, you're never without a complete smile.
The Benefits for People with Missing Teeth
By addressing your tooth loss, you will be able to eat a greater variety of foods again, which can provide a boost in daily nutrients and overall health. You will be able to speak without difficulty and won't feel embarrassed about your appearance, providing improvements for your overall quality of life. Finally, the dental implants halt the breakdown of jawbone tissue that follows tooth loss, which prevents you from developing a prematurely aged appearance! Your new teeth, since they act as tooth roots, can last for decades to come, possibly even an entire lifetime.
Ensuring a Lifelike Appearance
The prosthetic portion, the part that will be visible to people, will be custom-made using strong and lifelike materials, ensuring your new smile reflects your facial structure and offers a lifelike appearance. We want you to feel proud of your smile, and eager to show it off when you laugh or smile!
SUNNY SMILES IN EL PASO PROVIDES IMPLANT DENTISTRY
At Sunny Smiles in El Paso, TX, our team can help you enjoy a full smile once again with a custom and secure prosthetic. For more information on restoring smiles to full function and appearance, contact our N. Zaragoza dental practice by calling 915-849-9000.