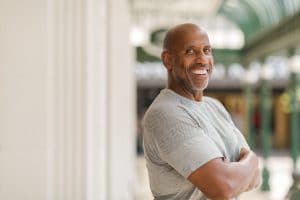 Did you know that the process of replacing one or more teeth with dental implants doesn't necessarily mean you need to undergo multiple visits and procedures? Instead, your El Paso, TX, dentists could address you tooth loss in a single visit with our same day dental implants. In today's blog, we're talking about how we restore smile function and beauty in a day.
How Does an Implant Address a Missing Tooth?
A dental implant is made of two major portions. The first is the screw-like implant portion, which acts a as new tooth root. Via oral surgery, we insert this into the jawbone. Through a process known as osseointegration, the implant and jawbone bond together, since the new root is made from biocompatible titanium. The visible portion, the one that is noticeable when you smile and allows you to eat your favorite foods again, is known as the restoration. For a single missing tooth, we add an abutment and attach a custom-made crown. If you have multiple missing teeth, then we insert several dental implants and attach a prosthetic, such as a bridge or even a partial or full denture. The result is a replacement option that can last for decades, even a lifetime in some cases, and one that is designed to look natural and blend with your smile.
Same Day Placement
Typically, the placement occurs and then we wait three to four months to complete the restoration. However, with same day we carefully examine the smile to assess the strength and state of the jawbone (as the tissue breaks down once we lose our natural teeth). We then plant the placement and insert the implant or implants. Next, in the same visit, we attach a restoration or prosthetic. You leave with a complete smile. In the mean time, we're designing and building your final set of teeth, which you return for in a future visit. With same day placement, you have a complete smile in one visit.
Keeping Your New Smile Strong and Vibrant
Remember, since they act as new tooth roots, these new teeth will be just as vulnerable to gum disease as natural ones. Routine care will necessary to keep your smile healthy and protect your new teeth. Be sure you brush and floss daily, and also see our team regularly for checkups and cleanings. If you have any questions, then please contact our team today to learn more.
TALK TO SUNNY SMILES IN EL PASO, TX ABOUT DENTAL IMPLANTS
At Sunny Smiles in El Paso, TX, we can help you enjoy a full and beautiful smile with a lifelike replacement option. For more information on ensuring a full smile, contact your El Paso, TX, dentists at Sunny Smiles on Dyer Street by calling 915-859-7000.