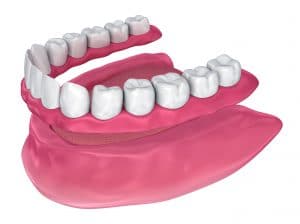 Our last blog looked at how a partial denture helps ensure a full and functional smile. But what if you have lost the vast majority of your natural teeth, or all of them? To restore your ability to you eat your favorite foods again or smile with confidence, your El Paso, TX, dentists suggest creating and placing a full set of dentures.
The Dangers of Severe Tooth Loss
Losing the majority of your teeth could mean you have trouble not just eating, but also speaking clearly! This could have a negative impact on your social interactions, and being forced to subsist on soft foods could deprive your body of essential vitamins and nutrients. Once the body notices the lack of tooth roots, the flow of calcium and phosphorus to the jawbone will be halted. Without these nutrients, the bone tissue itself breaks down, leading to an aged appearance. However, by addressing your tooth loss with a custom-made prosthetic, you could restore function and beauty to your smile!
Creating Your Denture
We start by taking a detailed impression, as well as images and measurements, of your smile. Using this information, our team is able to design and fabricate a prosthetic. The denture will consist of a base that mimics the appearance of gum tissue and is made from acrylic. Being custom-made ensures a comfortable fit. The teeth will be crafted from materials like ceramic, to ensure strength and durability. Ceramic can also be shaded to match the color of natural teeth. Typically, they will be held in place with suction, or possibly the assistance of a special adhesive. They will need to be replaced as the jaw ridge changes shape, usually every five years or so.
Securing Them with Dental Implants
If instead of suction, we insert several dental implants, then you can have a denture that is fixed in place and never slips when you eat or speak, and never needs to be removed for cleaning or soaking. The dental implants stimulate the growth of jawbone tissue, as the body accepts them as natural tooth roots, which means your new teeth could last for decades to come, possibly a lifetime, instead of just five years on average. If you have any questions about addressing missing teeth, then contact our team today.
TALK TO SUNNY SMILES IN EL PASO, TX ABOUT RESTORING YOUR SMILE
At Sunny Smiles in El Paso, TX, we want to help you enjoy a full, functional, and beautiful smile with a lifelike and long-lasting dental prosthetic. To learn more about tackling extreme cases of tooth loss, then contact your El Paso, TX, dentists at Sunny Smiles on Dyer Street by calling 915-859-7000.