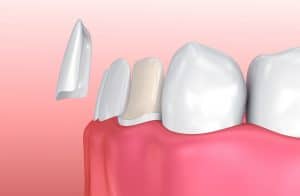 While some cosmetic treatments address a single esthetic issue at a time, such as stains or chipped teeth, we have one option designed to transform the smile. In today's blog, your El Paso, TX, dentists talk about how creating and placing lifelike restorations helps address multiple esthetic issues and improve overall smile beauty in just two visits.
Creating Effective Cosmetic Restorations
Each one will be custom-made, as this ensures a comfortable fit and helps provide a lifelike appearance. The process starts with an initial exam, in which we decide if this is the best course for your smile. If so, we remove a thin layer of enamel from the teeth. Next, we take impressions and measurements of the teeth, which helps us design and fabricate the restorations. The porcelain we create them from is translucent like tooth enamel, and can even be shaded to match the color of surrounding teeth. The material also absorbs daily bite forces and offers decades of quality restoration, provided you care for your smile as you should!
Placing Them and Daily Care
When we complete your veneers, you return for a second visit so we can place them with a powerful bonding agent. Routine care at home and in our office helps keep the material bright, ensuring an attractive restoration. In addition, routine care helps protect the natural teeth we attach the veneers to, reducing the risk of issues like tooth decay and gum disease. We suggest brushing your teeth twice daily for two minutes using a fluoride toothpaste. You also need to floss every night before bed. See our team every six months for a checkup and cleaning too, so we can monitor your smile and remove plaque buildup that could weaken outer enamel and inflame gum tissues, keeping your smile healthy and bright.
The Benefits for Your Smile
Placement helps mask permanent teeth stains, the kind that could be difficult to remove with traditional teeth whitening options. We also correct the appearance of misalignment, offering an alternative to braces for some patients. Placement lengthens worn down teeth and offers repair for chips and cracks. We also address misshapen or malformed teeth, and close embarrassing gaps between them as well. As you can see, we have the ability to transform your smile's appearance. If you have any questions about creating and placing custom-made porcelain veneers, or if you want a cosmetic consultation, then contact our team today.
SUNNY SMILES IN EL PASO PROVIDES ESTHETIC TREATMENT OPTIONS
At Sunny Smiles in El Paso, TX, we know how to help transform the overall beauty of your smile. For more information on our cosmetic restorations, then contact our N. Zaragoza dental practice by calling 915-849-9000.