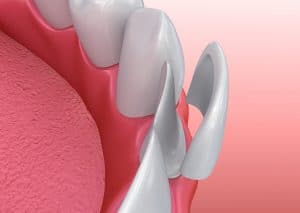 Often, a cosmetic procedure targets a specific area of the smile. For example, teeth whitening brightens teeth, and gum contouring improves the symmetry of the gum line. But with porcelain veneers, your El Paso, TX, dentist uses a single cosmetic restoration to completely change the shape and color of your smile, improving a wide array of esthetic issues.
The Benefits of Placing Porcelain Veneers
A veneer is a very thin shell of porcelain, one that is meant to completely cover the front and sides of the teeth. Once in place, we use them to help lengthen worn down teeth, a type of damage common in those with bruxism (chronic teeth grinding). We also repair chips and cracks, and close unsightly gaps between the teeth. Veneers have also addressed misshapen or malformed teeth, and even corrected the appearance of minor misalignment, offering an alternative to metal orthodontics for some. If you have permanent discoloration, which teeth whitening may not be able to remove, we could use them to mask stains and instantly brighten your smile!
Creating Your Custom Restorations
Each one will be custom-made for your smile. For example, we start by removing a thin layer of enamel to make room for them. We then take detailed impressions and images of the prepared tooth or teeth. Using the information we gather, we start designing and creating the porcelain veneer. The porcelain we use has the ability to mimic the translucent nature of tooth enamel, and can be shaded to match the color. When we complete them, you return to our office so we can place them with a powerful bonding agent.
Keeping Them Bright and Strong
With the right care, they can last for decades and help ensure your smile remains bright and beautiful. First, remember that the teeth they're attached too are still susceptible to issues like tooth decay and gum disease, so routine care not only keeps them bright, but protects the teeth holding them in place. You should brush your teeth twice a day and floss every night before going to bed. Each session should last about two minutes. You also need to floss before bed every night, and make time to see us every six months for a checkup and cleaning. If you have any questions, then please contact our team today.
TALK TO SUNNY SMILES IN EL PASO, TX ABOUT COSMETIC DENTAL CARE
At Sunny Smiles in El Paso, TX, we want to help residents enjoy a stunning new smile with lifelike and long-lasting cosmetic restorations. To learn more about how we improve smile beauty, then contact your El Paso, TX, dentists at Sunny Smiles on Dyer Street by calling 915-859-7000.