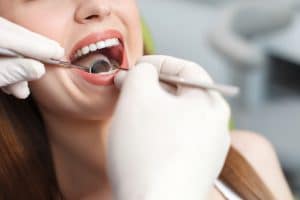 Our doors are open and we're finally able to offer treatment for non-essential visits, such as checkups and cleanings and cosmetic care, including teeth whitening and porcelain veneers. We still have emergency dental care as well, should you develop a damaged or aching tooth. In order to ensure your health and safety, your El Paso, TX, dentists have implemented new guidelines and measures!
Prescreening and Sanitation
Before your visit, we will ask you a few questions about your current health and how you're feeling. When you arrive for your visit, we will ask these pre-screening questions once more and also take your temperature when you enter the building. We will have you use hand sanitizer, and we will have this available throughout the office for your use.
Personal Protective Equipment
Our entire team will be wearing personal protective equipment, which will include masks, gowns, and face shields. We do this to protect the health of you and your family, as well as our own team members.
Rescheduling Options
If anytime in the 14 days before your scheduled visit you begin to notice flu-like symptoms, you can easily reschedule. We also suggest setting up a new appointment further down the road should you come into contact with people exhibiting flu-like symptoms. By taking these simple precautions, which our team members will also be following, we help safeguard everyone's health and safety!
Social Distancing
We want to limit how many people are in our waiting room at one time, so we will have fewer options for appointment times. However, this helps ensure better social distancing! We also have removed magazines from our waiting room, and will take the precautions of cleaning and disinfecting commonly touched surfaces in between each patient visit. Remember, if you do develop an emergency situation, you can call our office anytime 24/7 and we will set up a time for a dentist to see you quickly and offer treatment. Our emergency secrecies help both kids and adults, and are available at both El Paso, TX, locations. If you have any questions about emergency dentistry, or about any of our new safety and health measures we've implemented, then please contact our team today. We want to help you and your family continue to enjoy optimal oral health and beautiful smiles!
TALK TO SUNNY SMILES IN EL PASO, TX ABOUT SCHEDULING A VISIT
At Sunny Smiles in El Paso, TX, we're ready to see you and help you maintain strong and beautiful smiles, with preventive, cosmetic, and restorative dental care for people of all ages. To learn more about our approach to family and emergency dentistry, then contact your El Paso, TX, dentists at Sunny Smiles on Dyer Street by calling 915-859-7000.