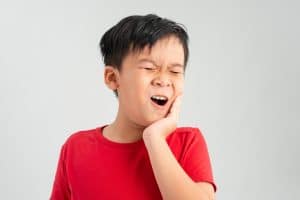 We've been talking a lot about treating dental emergencies lately, but we often focus on care for adults with damaged or knocked-out teeth. What about kids? Your El Paso, TX, dentists provide care for smiles of all ages, including children. In today's blog, we're going to look at when to seek emergency care for your little one's smile.
Don't Ignore Toothache Complains
When your little one complains about a toothache, let us know. Once the teeth hurt regularly, this could mean an advanced case of tooth decay, or possibly even an infected tooth. Lack of treatment could mean worsening discomfort and potentially the loss of the tooth! Premature tooth loss could mean an increased risk of misalignment, as this impacts the eruption of the permanent teeth. If your little one says his or her teeth hurts, let us know.
Even Minor Chips Need Attention
Children are very active, and sometimes, they get hurt. Maybe they skin a knee, or bruise an elbow. Or, maybe they chip or crack a tooth. Remember, even minor damage could still expose sensitive inner tissues to bacteria, leading to eventual cavities or infection unless addressed. If your child has damaged tooth, let us know right away. We're available 24/7 and can arrange for a dentist to see your little one should an injury happen outside of normal business hours. In the meantime, you can give your little one an age-appropriate over-the-counter pain reliever, and stem any bleeding with a washcloth. A cold compress can ease discomfort and reduce facial swelling as well.
Ensuring Your Family's Health and Comfort
With everything happening right world right now, you may feel nervous about heading into town to visit our office. In light of the pandemic, our team is taking steps to ensure the safety and health of our patients and team members. We're wearing PPE, including masks and gloves, and also cleaning and disinfecting commonly touched surfaces in between each visit. We make sure you're not sharing the waiting room with others, and follow strict health and safety measures too. If your little one faces a dental emergency, know that we're ready to see them and offer treatment! In fact, we can often address cavities or dental damage in one visit with lifelike results using composite resin fillings or dental bonding treatments!
SUNNY SMILES IN EL PASO PROVIDES CHILDREN'S DENTISTRY
At Sunny Smiles in El Paso, TX, our team is ready to help kids and adults alike receive treatment for injured or aching teeth. With our minimal restorations and years of experience, we know how to return smiles of all ages to full function and health. For more information on treating dental emergencies, then contact our N. Zaragoza dental practice by calling 915-849-9000.