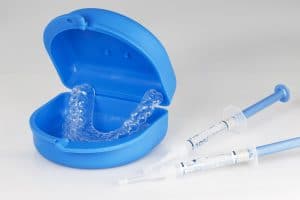 When you go shopping you will likely find a lot of products that provide brighter smiles from home. However, over-the-counter whitening doesn't offer the same dramatic results as professional care. Which is why your El Paso, TX, dentists are glad to offer take-home whitening with our custom-made trays and powerful bleaching gel.
The Benefits of Our Trays and Gel
This system not only brightens teeth by multiple shades, but also limits the risk of tooth sensitivity too. The process begins with an initial exam. We will assess the cause and extent of your discoloration, and decide which treatment will best address your stains. If we choose our home-based option, we will take detailed impressions and images of your smile to create a set of plastic trays. We then send you home with these custom trays, as well as a bleaching gel. At home, you will wear the gel-filled trays for about 30 to 45 minutes each day. The total course of treatment will last about a week to ten days. The trays fit comfortably and help ensure even results on the surfaces of your teeth. For some patients, the smile will be brightened by several shades.
Keeping Smiles Brighter
Following treatment, you will feel proud of your new smile and want to take steps to make these new results last. With a few changes to your normal routine this is very possible. For example, try to brush your teeth twice a day for two minutes, in the morning and again at night. Also, floss every night before bed too. These actions remove food particles and reduce the severity of plaque buildup, making stains less visible. You can also reduce plaque and stains by cutting back on drinks with tannins, like coffee, red wine, soda, and tea, and also consuming fewer sugary and starchy snack items. Be sure you see us every six months too, so we can remove all plaque and polish your smile with a dental cleaning.
What About Permanent Discoloration?
Permanent discoloration, also known as intrinsic staining, forms beneath the enamel and may be difficult to remove with teeth whitening. If this is the case for your smile, then we can still offer stunning results by masking them with either dental bonding or custom porcelain veneers. If you have any questions about our cosmetic treatment options, then please contact our team today.
TALK TO SUNNY SMILES IN EL PASO, TX ABOUT COSMETIC DENTISTRY
At Sunny Smiles in El Paso, TX, we know how much confidence a bright smile can instill, which is why we offer cosmetic treatment options. To learn more about cosmetic dentistry, then contact your El Paso, TX, dentists at Sunny Smiles on Dyer Street by calling 915-859-7000.