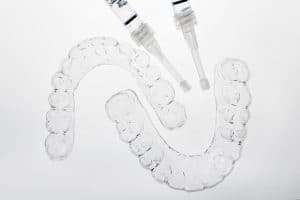 If you have stains on your smile, then you could feel embarrassed about your appearance, or even take steps to hide your smile from the world. But what if instead we could remove discoloration and help you enjoy teeth brightened by several shades? In today's blog, your El Paso, TX, dentists are talking about our at-home whitening kit!
Home Based Teeth Whitening
You can purchase a number of home-based treatments at the store, such as strips or even whitening toothpastes. However, these don't offer the dramatic results a professional option does, and the results they do offer don't last as long. In addition, these systems are often linked to tooth sensitivity. With our system, you come to the office and we take detailed impressions of your smile, using them to design and craft a set of plastic trays. You return home with these trays and a bleaching gel. Each day, you fill the trays with gel and wear them for about 30 to 45 minutes, as the trays help ensure even results. After a week to ten days, you could receive a significantly brighter smile, and then keep the trays and gel for touch-ups as needed in the future.
Keeping Your Smile Bright
What causes teeth stains? Well, most occur as a result of sugary foods and drinks promoting plaque buildup, which makes the discoloration more visible. In addition, drinks with dark pigments, such as coffee, soda, tea, and red wine, could also stain your smile surfaces. Cigarettes and other tobacco products could discolor teeth, as could poor oral hygiene habits, such as lack of proper brushing and flossing. To keep your smile bright, try to drink more water and choose healthier meal and snack options, brush and floss daily, and see our team for a thorough dental cleaning every six months. Avoid tobacco products as well!
What About Permanent Stains?
Some stains form underneath the enamel, known as intrinsic stains. They may not respond to teeth whitening, so instead of using trays and gel, we could actually mask them with other cosmetic treatments, such as thin porcelain veneers or dental bonding. Not matter the cause or severity of your discoloration, our team can help with professional cosmetic treatment options. Schedule a consultation today so we can examine your smile and see which treatments are best for your smile. We can work with you to help you enjoy your brightest and most beautiful smile!
SUNNY SMILES IN EL PASO TALK TEETH WHITENING
At Sunny Smiles in El Paso, TX, we would like to help you obtain a brighter smile with professional teeth whitening and other treatment options, such as bonding and veneers. For more information on our cosmetic dental care options, contact our N. Zaragoza dental practice by calling 915-849-9000.