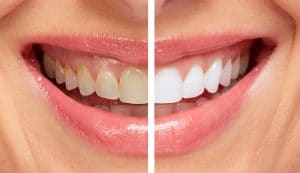 When our teeth develop unsightly stains, often as a result of the foods and drinks we consume, or poor habits, such as smoking, this can cause embarrassment. However, your El Paso, TX, dentists can offer a solution by removing and masking teeth stains. We have a professional teeth whitening option, as well as lifelike dental restorations.
Brighter Smiles from Home
Most discoloration is extrinsic, meaning they actually form on the surface of our teeth, caused by smoking or tobacco use, sugary foods and drinks, beverages with dark pigments, or poor oral hygiene that enables serious plaque buildup to accumulate. We often remove these stains with our at-home teeth whitening procedure, which offers more substantial and longer-lasting results than over-the-counter options.
We begin by taking detailed impressions of your smile to create a set of trays that fit comfortably. We then send you home with the trays and a powerful bleaching gel. At home, you will fill the trays with the gel and wear them for about 30 to 45 minutes a day, depending on the dentist's recommendations. The trays help ensure the gel is spread evenly across your teeth, providing uniform whitening. Optimal results will take a week to ten days to obtain. For many, smiles could be brightened by several shades! Following treatment, you can keep the trays and any remaining gel for touch-ups in the coming months.
Masking Severe Discoloration
But what about intrinsic discoloration? Also known as permanent teeth stains, these don't form on the surface and instead occur within the tooth structure, often a result of fluorosis, injury, or tetracycline exposure at a young age. While our at-home system can often address minor intrinsic stains, severe discoloration may need to be masked. With dental bonding, we use the same composite resin employed in our lifelike metal-free fillings to mask the discoloration. Veneers involve placing a thin restoration that is made from porcelain to ensure a completely lifelike appearance, and can be used to address issues with a tooth's shape and color. We can also combine these options as well, reserving veneers for the front teeth and bonding for the side and rear. If you have any questions about teeth whitening, or about the steps needed to obtain a brighter smile, then schedule a cosmetic consultation. We can examine your smile to see if you need treatment to address discoloration and brighten your smile.
SUNNY SMILES IN EL PASO OFFERS BRIGHTER SMILES
At Sunny Smiles in El Paso, TX, our team provides cosmetic treatment to remove stains and keep smiles bright. We want to help you obtain a bright smile you can feel proud of! If you have questions about our approach to teeth whitening, then please call our East El Paso location on N. Zaragoza Road at 915-849-9000!