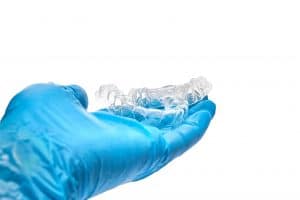 When you head to the store, you can find a number of products offering brighter teeth and stain removal. However, they rarely offer the desired level of whitening that our professional systems do. Your El Paso, TX, dentists help people enjoy noticeably brighter smiles with a custom-made set of trays and a bleaching gel.
Teeth Stains and OTC Whitening
Stains could form as a result of drinks with dark pigments, like coffee, red wine, tea, and soda, or beverages with lots of sugar. Food with high amounts of sugar and starch also impact discoloration. When bacteria consume sugary and starchy food particles, they coat the teeth in plaque, which makes the stains more visible. Other causes include smoking, a lack of proper brushing and flossing, and avoiding your twice-yearly dental cleanings.
You can purchase store bought systems, but there are some drawbacks. For example, most whitening toothpastes contain abrasive agents that could inadvertently wear and damage outer enamel. Strips are effective, but the results rarely last long and the tooth sensitivity could develop.
The Zoom! System
With our Zoom! System, our team will take detailed impressions of your teeth and then create a set of plastic trays that fit snugly over them. We then send you home with the trays, as well as the bleaching gel. Each day at home, you will fill the trays with gel and then wear them for between 30 and 45 minutes. The total amount of time will depend on the cause and extent of your discoloration, but could take as little as a week to ten days. For some, smiles are brightened by several shades!
Keeping Smiles Bright
First, remember that you can keep the trays and remaining gel for touch-ups as needed in the coming months. You also help by brushing and flossing daily, which removes food particles and limits the severity of plaque buildup. Cutting back on drinks with dark pigments, and foods and drinks that contain lots of sugar and starch, also helps. Make time to see us every six months, as a cleaning will allow our team remove all plaque and then polish your smile! With routine care both at home and in our office, you can enjoy a noticeably brighter and attractive smile. If you have any questions about our approach to cosmetic dentistry, then contact our team today.
TALK TO SUNNY SMILES IN EL PASO, TX ABOUT TEETH WHITENING
At Sunny Smiles in El Paso, TX, we can help you enjoy your brightest possible smile with a set of trays and gel. For more information on our cosmetic procedures, including teeth whitening, porcelain veneers, and dental bonding and contouring, then contact your El Paso, TX, dentists at Sunny Smiles on Dyer Street by calling 915-859-7000.