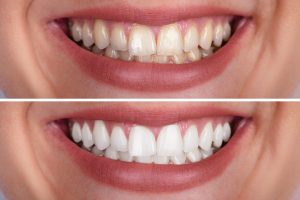 Do you have unsightly stains appearing on your smile? If so, then you may feel embarrassed about your smile's appearance. Instead of resorting to hiding your smile from the world, why not address the discoloration with professional teeth whitening? In today's blog, your El Paso, TX, dentists explain how we remove unsightly discoloration from your teeth with custom trays and a bleaching gel!
Teeth Whitening at Home
Our professional option helps remove unsightly discoloration from home! The process starts with an initial office visit. During your appointment, our team will create a set of plastic trays based on detailed impressions taken of your smile. We then send you home with these trays, along with a powerful bleaching gel. At home, you will fill the trays with the gel and wear them for about 30 to 45 minutes a day, depending on the dentist's recommendations. After a week to ten days, you will have a smile brightened by several shades. You then keep the trays and any remaining gel for touch-ups in the coming months.
Preventing Serious Discoloration
Along with professional systems to break up and remove teeth stains, you can also start taking steps at to limit the risk of future discoloration. For example, try to cut back on sugary foods and drinks, which promote plaque buildup and in turn, makes discoloration more visible. We also suggest consuming fewer beverages with dark pigments and tannins, like tea, red wine, soda, and coffee, which stain the teeth too. When we smoke and use tobacco products, this not only stains your teeth, but also increases the risk of several forms of cancer! Finally, make sure you brush and floss daily, which removes food particles that could otherwise feed bacteria and lead to plaque buildup.
What If I Have Permanent Teeth Stains?
While most stains are extrinsic, meaning they form on the surfaces, others are intrinsic, which means they develop underneath the enamel. These are often difficult to remove with traditional options, and could be caused by injury, tetracycline exposure at a young age, or fluorosis. However, to brighten smiles we suggest masking them with single-visit dental bonding, or possibly the placement of lifelike and custom porcelain veneers. If you have any questions about our approach to helping you achieve brighter smiles, or about our homecare suggestions, then contact our team today. We want to make sure your smile stays bright and healthy for years to come!
SUNNY SMILES IN EL PASO PROVIDES COSMETIC DENTISTRY
At Sunny Smiles in El Paso, TX, our team is ready to improve your overall smile beauty with an array of professional treatment options. For more information on cosmetic dentistry, then contact our N. Zaragoza dental practice by calling 915-849-9000.