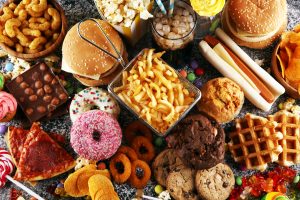 For many people, picking up fun snacks and treats has been a way of keeping spirits high during their time inside. We get it, and know that the occasional fun treat is okay, but too many foods and drinks high in sugar could do more than give you a stomachache, you could also become vulnerable to tooth decay! In today's blog, your El Paso, TX, dentists talk about how to prevent cavities with healthier food and drink options.
The Dangers of Sugary Foods and Drinks
Bacteria love to break down particles of sugar and starch, and eating candies and chips, and drinking sodas and energy drinks, definitely leave plenty behind for them to enjoy. In the process of breaking down these particles, bacteria coat the teeth in a sticky layer of plaque buildup, which hardens into tartar over time. This layer weakens and erodes the outer tooth enamel, and also inflames teeth gum tissues, boosting the risks of tooth decay and gum disease, and leading to painful symptoms, such as toothaches and sore, bleeding gums.
The Warning Signs of a Cavity
Typically, we would recommend a checkup every six months, during which we could often identify a cavity in the earliest stages, before you experience any symptoms. However, since we're closed to preventive visits, this means you may not know you have a cavity until your teeth begin to feel sensitive or ache, at which point the decay could have entered a later stage, one that could mean a higher risk of an eventual infection or abscess. If you experience pain, then let us know. Dental emergencies often include treating the warning signs of a decayed or infected tooth, preventing loss and worsening pain.
Treatment with Emergency Dentistry
When you visit our office, you will find you have the waiting room to yourself, to help limit contact with us and prevent the spread of COVID-19. In between each visit, our team will clean and disinfect commonly touched surfaces throughout the office. For a cavity, we may recommend a filling to address the issue in one visit. For more advanced cases, or infected teeth, a root canal could allow us to access and remove infected tissues, before capping the tooth with a lifelike dental crown. We can then discuss ways to help safeguard your smile from home and protect it until our doors can open once again for general and preventive care. If you have any questions, feel free to contact our team today.
TALK TO SUNNY SMILES IN EL PASO, TX ABOUT PREVENTING CAVITIES
At Sunny Smiles in El Paso, TX, our team is focused on helping you and your family maintain optimal oral health at home. To learn more about protect smiles of all ages from harmful tooth decay, then contact your El Paso, TX, dentists at Sunny Smiles on Dyer Street by calling 915-859-7000.