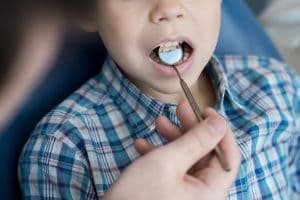 As you know, our team is limiting treatments to help protect our community from the spread of COVID-19. However, we're still here for emergency treatment for people of all ages, even kids! In today's blog, your El Paso, TX, dentists will explain when to bring your child in for an emergency visit, and what steps you can take to help keep their smiles healthy and strong from home.
Common Dental Emergencies
Children are very active, and that's good! But being active often means injuries are common, and those could include chipped or cracked teeth. Addressing damage, even if it appears minor, is crucial, as damage could expose sensitive inner tissues and allow a cavity to form. Over time, a cavity could even lead to infection! When a tooth develops a cavity or infection, your children may experience tooth sensitivity and toothaches, which grow worse with time. If this happens, bring them in for an emergency visit, as this could mean attention is needed to prevent the premature loss of a tooth. Losing a baby tooth early may not seem very harmful, but this could lead to a higher risk of dental misalignment in their teen years.
Addressing Initial Discomfort
When your child injures a tooth, have them rinse with warm water and provide an age-appropriate pain reliever, such as children's ibuprofen or acetaminophen. Use a gauze or washcloth to help stem any bleeding, and place an ice pack against the side of the face to reduce facial swelling. If it's possible to recover pieces of the tooth, bring it with you. If your child has a toothache, gently floss on either side of the tooth and have them rinse with warm water. If this fails to alleviate pain or pressure, then contact our team to schedule an emergency visit.
Treatment Options
For minor cavities or injuries, we could use a minimal restoration to repair the tooth. The restoration will be made from composite resin, a metal-free blend of glass and acrylic that can be shaded to match the color of your tooth. Placement only takes one visit, and can help halt decay and prevent further complications due to cavities or injuries to a tooth. We also have crowns if a child needs a more substantial restoration. To help safeguard smiles from cavities at home, we suggest brushing twice daily for two minutes, in the morning and again at night, and also flossing before bed as well.
SUNNY SMILES IN EL PASO OFFERS CHILDREN'S DENTISTRY
At Sunny Smiles in El Paso, TX, we want to help kids practice better oral hygiene and protect their smiles. For more information on better oral health for kids of all ages, then contact our N. Zaragoza dental practice by calling 915-849-9000.