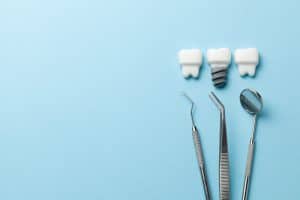 Tooth loss could lead to embarrassment, and serious issues with your smile's health and function. To help address missing teeth, your El Paso, TX, dentists may recommend dental implants. We're talking about how to avoid tooth loss in our latest blog, and how we can help address the gaps in your smile as soon as our doors can open again!
The Health Risks of Missing Teeth
When we lose our teeth, this leads to serious changes to our smile's health and our facial structure. First, the body will also take notice of a missing tooth root and respond by suspending the flow of nutrients to the jawbone. Over time, this causes the bone tissue to break down, leading to an aged appearance and additional missing teeth. Teeth surrounding the gap in your smile could begin to drift from position, causing misalignment. Missing teeth also increase the risk of issues like TMJ disorder and bruxism (chronic teeth grinding), as they place pressure on bite balance. You could also have trouble eating your favorite foods, or even speaking clearly!
Prevention From Home
While people may lose a tooth to an injury or accident, most often the cause is related to oral health. An advanced cavity or untreated dental infection could cost a tooth, but the most common factor is gum disease. Unless managed with routine care, gum disease could lead to a more advanced stage called periodontitis, a stage responsible missing teeth. To help control your gum health and avoid this disease, or keep in under control until we can see you again for cleanings, you need to brush your teeth for two minutes when you wake up and again before bed. You need to floss each night as well, and avoid smoking cigarettes or using tobacco products. Let us know if you have an inflammatory illness as well.
The Benefits of Implant Dentistry
If you do lose one or more of your teeth, then when our doors open again, we can help address the gaps in your smile with implant dentistry. Unlike other prosthetics that rely on crowns or suction to stay in place, we insert dental implants into the jawbone, where they act as new teeth and support a restoration or prosthetic that looks natural, blending with your smile. We can address minor tooth loss, or provide secure dentures that last for decades to come!
SUNNY SMILES IN EL PASO PROVIDES IMPLANT DENTISTRY
At Sunny Smiles in El Paso, TX, we want to help protect smiles from the dangers of untreated tooth loss. For more information on addressing minor and severe tooth loss, then contact our N. Zaragoza dental practice by calling 915-849-9000.