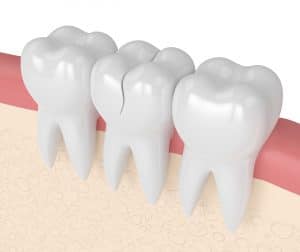 When a tooth is injured, let us know! Even minor cracks could mean trouble down the road, and fractures could be practically invisible to the naked eye. Your El Paso, TX, dentists are still providing emergency treatments for people in our community with injured teeth, and we can often repair damage in as little as one visit!
Don't Ignore Your Dental Emergency
The outer enamel coating our teeth protects the sensitive inner structures from bacteria, which lowers the risk of tooth decay and dental infections. However, when your tooth ends up chipped, broken, or cracked, this exposes the inner tissues and allows serious oral health issues to develop. Even minor damage is considered a dental emergency, so be sure to contact our team for treatment. When you visit us, we will ensure you're the only one in the waiting room, and our team will also clean and disinfect surfaces throughout the office in between each patient visit. Your health and safety is paramount to us!
Restoring Your Smile
How will we repair your smile? For minor chips, we may use the same composite resin we employ in our tooth-colored fillings. Known as dental bonding, this allows us to provide a lifelike solution to minor damage in only one visit. For more serious cases of injury, we may instead create and place a lifelike dental crown, which covers the entire visible portion of your tooth. We not only ensure your smile stays healthy and functions properly, but that your smile continues to look natural.
Protecting Your Teeth and Gums From Injury
Following treatment, you can start taking steps to protect your smile. For example, when you brush and floss daily, and enjoy a healthier diet, you help reduce the risk of cavities and infection, which also strengthens the outer structure against injury. When you're able to play sports or other athletic activities again, be sure you wear a mouthguard, which decreases the chances of a cracked or chipped tooth occurring. If you have any questions about a potential dental injury, or about the steps you can take to keep your smile healthy and whole from home, then please contact our team today. We want to make sure that you continue to keep your smile healthy and strong, even from the comfort of your own home.
TALK TO SUNNY SMILES IN EL PASO, TX ABOUT EMERGENCY DENTAL CARE
At Sunny Smiles in El Paso, TX, we want to help you and your family continue to enjoy your best possible smile, with both routine homecare and emergency treatments when needed. To learn more about our approach emergency treatment options and repairing damaged teeth, then contact your El Paso, TX, dentists at Sunny Smiles on Dyer Street by calling 915-859-7000.