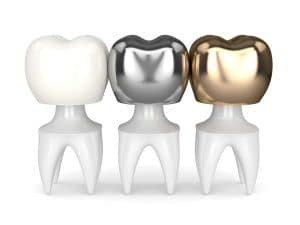 When your tooth develops serious oral health issues, like cavities, or if they become damaged, then a restoration is necessary to repair them. We often place a custom-made crown to address dental emergency situations. In today's blog, your El Paso, TX, dentists talk about how we restore smiles with crowns, and when you may need one.
Warning Signs of Decay or Infection
When a tooth is chipped or broken, the need for attention is obvious. Along with the impacts on your smile's beauty, this damage could lead to an increased risk of cavities and infection, as the inner structure is now exposed to harmful bacteria. But if you develop a serious cavity, or if a tooth is infected, then you may not be able to see the impact. You can however, feel it. Tooth decay and dental infection often cause tooth sensitivity and toothaches, which grow worse with time. If you experience persistent pain, or swelling near the tooth or a discharge from it, then you may need to see us for an exam. With emergency care, we can repair the issue and protect your smile.
Creating a Custom Restoration
Minor cases of tooth decay may need only a filling to treat them. With a metal-free composite resin material, we restore the tooth in a single visit. However, if the decay is advanced and the tooth has become infected, you may need a more substantial restoration. We start by removing structure from the tooth. We then take impressions. We may perform a root canal to remove the infected tissues from within the tooth. We use the impressions to design and create a custom-made crown, which covers the visible portion of the tooth. The completed crown is placed over the tooth, and created to look natural and blend with your smile. We also use this restoration to repair damage, or aid in tooth replacement by securing a crown or completing a single tooth dental implant.
Our Health and Safety Protocols
When you do come to our office, our team will take steps to protect your smile. For example, we will ensure you are the only one in the waiting room, and in between each visit, we will clean and disinfect surfaces, such a door handles, reception desk, waiting room surfaces, bathroom surfaces, and of course, our chairs and tools. If you have any questions about improving your oral health, then contact our team today.
SUNNY SMILES IN EL PASO PROVIDES EMERGENCY DENTISTRY
At Sunny Smiles in El Paso, TX, we want to help you and your family continue to enjoy optimal oral health as you shelter in place. For more information on our treatment options, contact our N. Zaragoza dental practice by calling 915-849-9000.