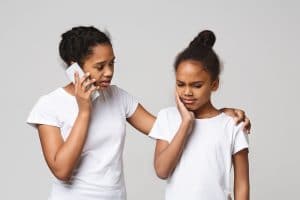 When a tooth is damaged, or if severe discomfort arises, this could mean you have an emergency situation that needs treatment. Your El Paso, TX, dentists are still here for your dental emergency needs, providing repair and taking steps to ensure the health and safety of our patients. When should you contact our team to schedule a visit?
The Dangers of Untreated Dental Damage
When a tooth sustains damage, even if it appears to be a very minor crack or chip, this actually exposes the sensitive inner layers of dentin to harmful bacteria. As a result, a cavity could form and unless treated in a timely manner, an infection could arise as well. You then experience rising discomfort, and over time, could suffer from a lost tooth. If you experience any damage or discomfort, then let us know right away. We will schedule a time to see you and offer treatment!
Emergency Treatment
If your tooth is damaged, give us a call right away. Then, take a pain reliever to ease discomfort, and use a washcloth or gauze to control any bleeding that occurs. To reduce facial swelling, put a cold compress or ice pack against the side of your face. We will often repair minor damage in one visit with dental bonding, which uses a metal-free composite resin to restore and repair the tooth, ensuring a lifelike appearance. For more substantial damage, we can create and place a crown that looks natural and matches the rest of your smile. By treating your smile we bring a halt to discomfort and improve the overall health and beauty of your smile.
Protecting Your Smile From Home
What can you do to safeguard your smile from home? Since we won't be offering checkups and cleanings for the time being, you need to maintain regular care to protect your smile. We suggest brushing your teeth for two minutes when you wake up and again before going to bed. Each session should take about two minutes, and use a toothpaste with fluoride. We also suggest flossing in between each of your teeth to reach and remove what a toothbrush alone likely cannot. Try to also enjoy healthier food and drink options, such as veggies, fruits, yogurts, cheeses, nuts, and sugar-free gum. Drink more water too! If you have any questions about emergency treatment or about safeguarding your smile from home, then contact our team today.
TALK TO SUNNY SMILES IN EL PASO, TX ABOUT EMERGENCY DENTISTRY
At Sunny Smiles in El Paso, TX, we would like to help restore the health and function of your smile. To learn more about our approach to emergency dentistry, then contact your El Paso, TX, dentists at Sunny Smiles on Dyer Street by calling 915-859-7000.