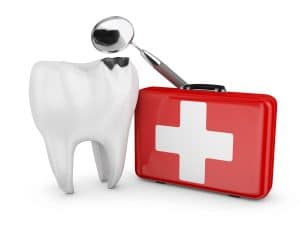 When you have a serious issue with pain in your smile, or if a tooth sustains damage, then scheduling an appointment with your El Paso, TX, dentists is often necessary. With emergency dental services, we can repair damage and prevent serious complications from developing. In today's blog, we're looking at the emergency treatment options we offer! Don't let your chipped tooth lead to avoidable complications.
Damaged Teeth or Injury
If you sustain an injury and no visible damage is there, remember that dental fractures are usually invisible to the naked eye. If you have a chip, even if it appears minor, also let us know. These minor injuries often expose the sensitive inner layers of tooth structure usually protected by enamel. Bacteria then has the opportunity to reach the inner layers and allow cavities to form, leading to tooth sensitivity and toothaches and unless treated, the risk of an infected tooth. If you have an injury, rinse your mouth with warm water and take a pain reliever. Cloth or gauze could be used to control bleeding, and an ice pack or cold compress against the side of your face could stop swelling.
Scheduling Your Visit
If you have a chipped or cracked tooth, or one with persistent aches or sensitivity, you need emergency dental treatment to avoid more severe complications. You can call or text 915-849-9000 to schedule a visit at our East-side location, or 915-759-7000 for our Northeast location. We can see you in the evenings or on the weekends, whenever your injury occurs. The sooner we see you, the sooner we can offer treatment. For minor chips and cracks, dental bonding could offer a strong and lifelike repair in just one visit. We also have custom crowns to offer more substantial repair, as well as inlays and onlays. In as little as one to two visits we can help restore the health, function, and beauty of your smile.
Ensuring Patient Safety
During your visit, we will take steps to ensure your safety and health. First, we schedule appointments to ensure your waiting room isn't filled with people, and in between these visits we also clean and disinfect the waiting room surfaces, the bathrooms, the reception desk, our tools, and more. If you have any questions about addressing emergency scenarios, then please contact our team today. Don't ignore that aching tooth a minute longer!
TALK TO SUNNY SMILES IN EL PASO, TX ABOUT EMERGENCY DENTISTRY
At Sunny Smiles in El Paso, TX, our team provides treatments to restore smiles that have suffered minor and more severe injuries and damage. To learn more about the emergency services we off our community, then contact your El Paso, TX, dentists at Sunny Smiles on Dyer Street by calling 915-859-7000.