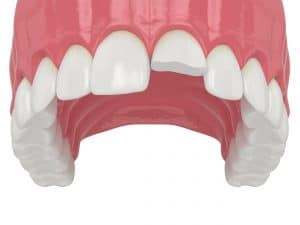 When you end up with damaged teeth or injuries to your gums or oral structures, then you have a dental emergency. Not seeking treatment could mean a greater risk of everything from decay to infection down the road. In today's blog, your El Paso, TX, dentists talk about identifying and treating emergency dental situations, and our convenient evening and weekend hours!
Common Emergency Situations
Common situations could include a cracked or chipped tooth, or tooth that has been knocked-out completely. You could have something stuck between your teeth that floss cannot remove, or may be experiencing a severe and sudden toothache. Your fillings or crowns could come loose or fall out completely, and if you have orthodontics, they could become damaged or loose. As long as the issue isn't life threatening (if it is, you should call 911 or proceed immediately to the nearest emergency room) then please contact our team right away.
Immediate Responses
If you chip or crack a tooth, rinse with warm water and use gauze to stem any bleeding. A cold compress against the side of your face could control swelling, and you can also take a pain reliever. If you can recover any pieces of your tooth, then bring them with you. If a tooth is knocked out, again rinse and use gauze and compresses as necessary. Pick the tooth up by the crown, never touch the root, and place it in a glass of milk or salt water. Bring it with you to the office. If a restoration is loose or lost, avoid sugary foods and drinks, or hot or cold foods and drinks, as these could cause discomfort. Please see our team right away!
When to See Us
Our office is open from Monday through Saturdays at our East-side location, and Monday through Friday at our Northeast location. We also have evening hours as well. When you sustain an injury or experience discomfort, please let us know. Even if this occurs outside of normal hours, we can call you back to set up a time to see us and undergo treatment. Often, we can repair damage in a single visit with treatments like cosmetic bonding. If you have any questions about our emergency treatment options, then please contact our team today to learn more.
TALK TO SUNNY SMILES IN EL PASO, TX ABOUT EMERGENCY DENTISTRY
At Sunny Smiles in El Paso, TX, our team can address and correct minor and severe damage, sometimes in a single visit. Don't let these issues cause poor oral health or serious complications, such as a cavity or even a lost tooth! For more information on repairing damage, contact your El Paso, TX, dentists at Sunny Smiles on Dyer Street by calling 915-859-7000.