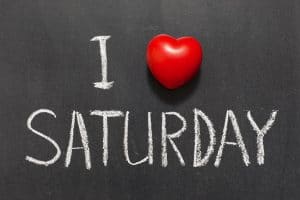 As working adults, finding time to see the dentist can be difficult. Between work, commutes, and carving out time for family, finding opportunity to address oral health is hard to come by. Fortunately, your El Paso, TX, dentists understand this, and we offer evening hours and Saturday hours, so we can see you without adding to your already hectic schedule.
Saturday Hours (and Evening Hours)
We have two convenient locations in El Paso. Our east-side location is on 1788 North Zaragoza Road, and our northeast location is at 10039 Dyer Street. We're open on Saturdays from 9am until 4pm at either location. In addition, if you prefer to see us during the week, we're open until 6pm each day, providing evening hours for those getting off work. You can call or text us at the numbers below, or click Book Now at the top of the page when you visit our website. From there, you can choose which location you would prefer to visit. We will work with you to find the best time to see us, a time that works for you and your family's schedules. We also have emergency services should you find yourself with a cracked or chipped tooth outside of normal office hours.
Use Your Dental Benefits
Now that we're almost to Thanksgiving, the end of 2019 is right around the concern. To avoid trying to make time to see us during the hectic holiday season, why not schedule a visit now? We can perform a detailed checkup and cleaning, creating a personalized treatment plan to improve your oral health and address issues with the function and appearance of your smile. You can also use your dental insurance benefits and flex spending account funds before they expire on December 31st. Don't let these benefits simply vanish without being used. We can file for you and answer questions about your coverage. We can start treatment now and if needed, continue in 2020 once your new benefits become available to use.
Comprehensive Treatment
We offer care for the whole family! We have preventive and restorative treatments to help babies, toddlers, and kids. We also have treatments to help adults, ensuring people of all ages enjoy optimal oral health and don't fall victim to infections, advanced gum disease, or tooth loss. Whether you have a cavity or have lost a tooth, we're help with lifelike and durable solutions. If you have any questions, then please contact our team today to learn more!
SUNNY SMILES IN EL PASO HAS SATURDAY HOURS
At Sunny Smiles in El Paso, TX, our team can see you at your convenience, and helping you enjoy optimal oral health. If you have question about our treatment option and office hours, then please call our East El Paso location on N. Zaragoza Road at 915-849-9000!