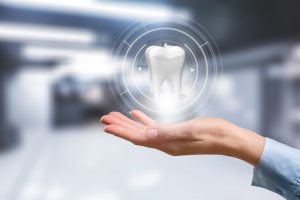 If you have a chipped tooth, or issues with your smile's color and shape, the you could benefit from cosmetic repair. With dental bonding and contouring, your El Paso, TX, dentists can help repair your teeth in just one sitting! Learn more about these unique and durable treatment options in today's blog, and start the holiday season with a more attractive smile.
Cosmetic Bonding and Contouring
Both of these unique treatment options can be completed in a single visit. With dental bonding, we use the same metal-free composite resin employed on our lifelike tooth fillings. We start by preparing the material and shading it to match the color of your teeth. We then remove the decay from the teeth and clean them. We may etch the surface as well. We place the composite resin material in several layers, and then sculpt the tooth as we cure it under a light. Contouring is a very different approach. We don't add anything to the tooth, instead, we buff and sand the tooth to remove outer structure and change the tooth's shape, again all in a single visit.
What Issues Will They Address?
With bonding, we can lengthen worn down teeth and repair chipped or cracked teeth. Our team can also close gaps between the teeth and mask permanent teeth stains, the intrinsic discoloration that may not respond to most teeth whitening methods. With contouring, we reshape malformed or damaged teeth, and even remove any pits or grooves in the tooth's surface. Our team can also dull teeth that appear sharp or overly pointed.
Porcelain Veneers
We also have another cosmetic treatment option that can instantly transform the smile's appearance. Veneers are thin shells of porcelain that cover the front and sides of the teeth. They are translucent like tooth enamel and can be shaded to match the color of surrounding tooth structure. Once in place, they address many of the same issues as bonding and contouring can, but also correct the appearance of minor misalignment and can last much longer. If you have any questions about our cosmetic treatment options, or if you would like a consultation, then contact our team today. We will discuss your smile goals and create a personalized treatment plan to improve the beauty of your smile, sometimes in as little as one visit.
TALK TO SUNNY SMILES IN EL PASO ABOUT COSMETIC TREATMENTS
At Sunny Smiles in El Paso, TX, our team is ready to help you enjoy an attractive and stunning smile, often in a single sitting. If you have questions about cosmetic dental care, then you can reach our East El Paso dental practice on 10039 Dyer St., at 915-859-7000!