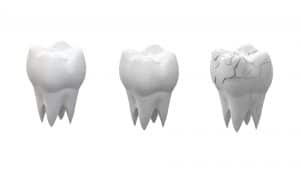 When a tooth is damaged, you need to let us know. With emergency dental care, your El Paso, TX, dentists can help repair these issues and avoid the onset of complications like cavities or dental infection. In today's blog, we're going to explain how we repair smiles with lifelike and durable dental restorations.
The Causes of Damaged Teeth
When playing sports, we could accidentally injure our teeth. We could also trip and fall, bite down on a hard piece of food, or have a tooth crack or chip after being weakened as a result of tooth decay. When damage occurs, this exposes the inner sensitive layers of dentin to bacteria, allowing cavities to form. Over time, these cavities could lead to infection and even the loss of your tooth.
Addressing Your Dental Emergency
When you damage tooth, rinse with warm water and try to recover any pieces of your teeth you can. Put them in a sealed container and bring them to the office with you. To control bleeding, use a washcloth or a bit of gauze. A cold compress or ice pack to the side of the face could reduce swelling. Contact our office and we will schedule a time to see you and offer treatment. When you arrive, you will have the waiting room to yourself. Our team will be wearing mask and gloves, and thoroughly cleaning and disinfecting surfaces throughout the office in between each patient visit. We want to ensure the health and safety of our patients and our team members!
Treatment Options
For a minor chipped tooth, we may use dental bonding to repair the issue in one visit. We employ the same metal-free composite resin used in our tooth-colored fillings to fix the damage and ensure a lifelike repair. For more substantial injuries, we may create and place a natural-looking crown, which covers the visible portion of the smile. When you leave, you do so with a smile that looks natural. The restorations can last years and prevent further decay or infection in the injured tooth. If you have developed an advanced cavity or a painful infection, we can use root canal therapy to halt the discomfort and prevent the loss of your tooth. If you have any questions about addressing dental emergencies, or about restoring damaged teeth with lifelike crowns and bonding, then contact our team today!
SUNNY SMILES IN EL PASO REPAIRS DAMAGED TEETH
At Sunny Smiles in El Paso, TX, our team wants to help you avoid serious complications due to injured teeth or dental damage, even if it appears minor and mainly cosmetic. Don't let your injuries cause issues for your oral health! For more information on restoring smiles and avoiding complications, then contact our N. Zaragoza dental practice by calling 915-849-9000.