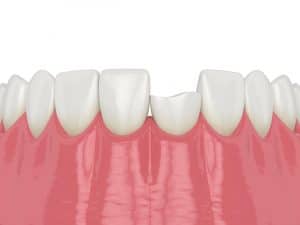 What if you have a number of issues with the appearance of one or more of your teeth? Just because you have problems with the shape and color of your tooth, doesn't mean you need multiple visits. You will be relieved to hear that your El Paso, TX, dentists provide a single visit repair using cosmetic bonding!
When Do We Need Dental Bonding?
With dental bonding, our team can offer a number of restorative and cosmetic treatment options. For example, we can repair minor chips and cracks, and even lengthen teeth worn down by teeth grinding. Treatment helps close gaps between the teeth and address issues with the shape of the teeth. We also use the procedure to mask permanent teeth stains, the kind that form beneath the outer enamel and may be difficult to remove with traditional teeth whitening. The best part? Placement only takes one visit to complete!
The Treatment Process
To start, we will examine your smile carefully to assess the cause and extent of your esthetic concerns. If we decide to move forward with dental bonding, our team will remove decay from the tooth and then clean it thoroughly. Next, we etch the surfaces and prepare the treatment material, which is made from a metal-free blend of glass and acrylic, which we can shade to match the color of surrounding structure.
We apply the material to the tooth and then as we cure the composite resin under a light, we shape and sculpt the tooth. Finally, we polish the tooth to offer a more lifelike appearance. The entire process only takes one visit to complete.
What About Contouring?
In the same sitting, we could also contour the teeth. With contouring, we don't add a special material to the tooth at all. Instead, we gently sand and buff away small sections of outer structure to correct esthetic issues. For example, we can address very minor chips, reshape overly large teeth, and remove rough patches in the surfaces. We also remove pits or grooves in the structure and help dull overly pointed teeth too. Prior to treatment, we can also whiten your teeth to ensure your new repairs match your brightest possible smile. Our team can also provide porcelain veneers, a treatment that employs a custom restoration to provide lifelike repair. Using these for the font-facing teeth and bonding and contouring for the side teeth can offer a cost-effective smile makeover!
SUNNY SMILES IN EL PASO OFFERS SMILE REPAIR
At Sunny Smiles in El Paso, TX, we know that fixing minor damage not only boosts smile beauty, but safeguards overall oral health too! For more information on our cosmetic treatments or to schedule your next consultation, contact our N. Zaragoza dental practice by calling 915-849-9000.