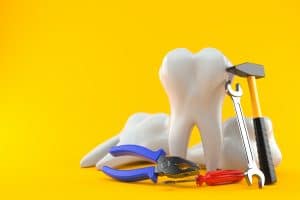 We recently discussed how our trays and gel can help brighten teeth by several different shades, helping you achieve a brighter and more attractive smile in as little as one week. However, what if you have a chipped tooth, or a misshapen one? With bonding and contouring, your El Paso, TX, dentists can repair smiles in a single visit.
Repairing Damaged Teeth
When a tooth becomes chipped or cracked, or is worn down as a result of teeth grinding, treatment is crucial. Even very minor damage could potentially expose the sensitive inner layers of dentin to harmful oral bacteria, a development that could increase the risk of tooth decay and even dental infection. If you damage a tooth, remember that we're available with evening and weekend hours to help. Simply rinse your mouth with warm water and use cloth or gauze to stem any bleeding. If you can recover any pieces of the tooth, bring them with you. If you experience discomfort you can take a pain reliever. Then contact our team to schedule a visit and restore your smile!
Dental Bonding
With dental bonding, we employ a metal-free blend of glass and acrylic to repair the tooth. This material, known as composite resin, is also employed in our fillings to fix tooth decay. After we remove decay and clean your tooth, we apply the material in several different layers. Next, we sculpt and mold the tooth while the material is cured under a special light. Finally, we polish the tooth for a more lifelike appearance. The entire process only takes one visit to complete, and helps prevent complications while offering a natural-looking appearance!
Contouring and Other Cosmetic Treatments
We can also offer a single visit restoration with contouring. Instead of adding to the tooth structure, we gently sand and buff away structure to remove pits or grooves in the tooth's surface, smooth rough patches, dull pointed teeth and address teeth that appear overly large or misshapen. If you have substantial damage, remember that we also have lifelike crowns that can address severe damage and complications, such as advanced decay or dental infection. If you have any questions about repairing teeth with cosmetic bonding or any of our other cosmetic treatments and restorations, then contact our team today. We can help return your smile to optimal health, function, and appearance, often in one siting!
SUNNY SMILES IN EL PASO PROVIDES COSMETIC DENTISTRY
At Sunny Smiles in El Paso, TX, we can use cosmetic treatments to brighten teeth and address minor damage. If you do damage a tooth, even if it happens in the evenings or on the weekend, give our office a call to schedule an emergency visit. For more information on our cosmetic treatments, contact our N. Zaragoza dental practice by calling 915-849-9000.