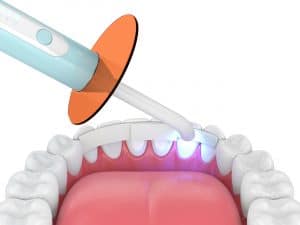 When discussing cosmetic dentistry, people often focus on teeth whitening. While an important and effective cosmetic treatment, we also have other treatment options, such as bonding and contouring. In today's blog, your El Paso, TX, dentists talk about how we improve smile beauty in one sitting with bonding and contouring!
What is Dental Bonding?
Dental bonding addresses a wide array of cosmetic concerns in a single visit using the same composite resin we employin our metal-free dental fillings. The material is a unique blend of glass and acrylic, a blend that can be shaded to match the color of your teeth. After we clean your tooth, we will prepare and place the material in several different layers. The next step is to shape and mold the tooth as it cures underneath a powerful light. Finally, we polish the tooth for a more esthetically-pleasing appearance. With this option, we can lengthen teeth that teeth grinding and clenching has worn down. We also repair major damage, such as chips and cracks, and also reshape malformed teeth too. If you have gaps between your teeth, we can close them, and if you have permanent teeth stains that don't respond to teeth whitening treatments, we can mask these stains completely.
How Do We Contour a Tooth?
Contouring takes a very different approach. We don't add material to the tooth at all. Instead, your dentist will gently and carefully remove outer structure by sanding and buffing the tooth. We can remove pits and grooves in the tooth's surfaces, and smooth rough patches as well. If you have sharp or pointed teeth, we can dull them, and we can often address minor chips or misshapen teeth as well. If you have teeth that appear too large, we can correct this concern too. We can often perform this and bonding in the same visit.
Other Cosmetic Treatment Options
For a smile makeover, we may combine these options with our professional teeth whitening treatments, which have been known to brighten teeth by several shades. In addition, we have porcelain veneers to provide a lifelike appearance for the more front-facing teeth in need of treatment. If you have any questions about these treatments, or if you want to see which are right for you, then schedule a consultation. With an exam, our team can assess the factors behind your esthetic issues and choose the most appropriate treatment option.
SUNNY SMILES IN EL PASO PROVIDES COSMETIC CARE
At Sunny Smiles in El Paso, TX, we would love to help you enjoy a brighter and more attractive smile with an array of advanced treatment options. If you have questions about cosmetic dentistry, then you can contact our N. Zaragoza dental practice by calling 915-849-9000.