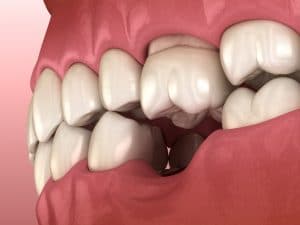 When we fail to take care of our smiles properly, then serious oral health issues could arise that lead to discomfort and in some cases, tooth loss. In today's blog, your El Paso, TX, dentists are talking about the steps you can take from home to prevent tooth loss, and our options for replacing missing teeth, including dental implants.
The Causes of Tooth Loss
How do we lose our natural teeth? A number of factors could cause us to lose one or more teeth, such as injury, or untreated decay or infection. However, the most common cause is periodontitis, or the advanced stage of gum disease. Periodontal disease forms when our gum tissues become inflamed. When the inflammation remains untreated, the gum tissue pulls away from the teeth and forms deep pockets. Bacteria then infiltrate these pockets and cause the disease. The causes of inflammation could include poor hygiene, inflammatory illnesses, the use of certain medications, smoking and the use of other tobacco products, and a family history of periodontal issues.
Better Homecare Habits
Often, our gums become inflamed when we plaque buildup accumulates on our teeth and irritates the gingival tissues. Since we can't offer dental cleanings to remove plaque at the moment, you need to care for your smile from home to prevent serious buildup from occurring. We suggest brushing your teeth when you wake up and once more before going to bed. Each session should take two minutes and make use of a fluoride toothpaste. You also need to floss up and down each side of very tooth, dipping below the gum line, to remove what a toothbrush cannot. In addition, cutting back on sugary and starchy foods could also limit plaque accumulation, as bacteria love breaking down these stray food particles.
Our Implant Options
What if you have already lost a tooth, or lose one in the near future? While we're currently only limiting treatment to emergency situations, when we can open our doors again, we would love to help you obtain a full and whole smile again. With implant dentistry, we insert a dental implant to the jawbone, which acts as a new tooth root. We then attach a crown to restore the visible portions of your new tooth. Unlike other tooth replacement options, dental implants can last for decades. Possibly even a lifetime! If you have any questions about protecting your smile from periodontal issues, or about addressing missing teeth, then contact our team today.
TALK TO SUNNY SMILES IN EL PASO, TX ABOUT IMPLANT DENTISTRY
At Sunny Smiles in El Paso, TX, we want to help people in our community enjoy a full and healthy smile. To learn more about replacing missing teeth, then contact your El Paso, TX, dentists at Sunny Smiles on Dyer Street by calling 915-859-7000.