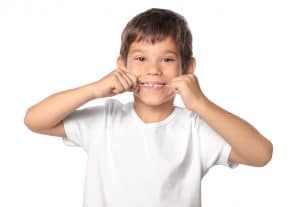 As parents, you want your children to be happy and healthy. This includes their smile! In today's blog, your El Paso, TX, dentists are talking about what you can do to help your children enjoy optimal oral health and keep their teeth free of common issues, such as tooth decay or gingivitis.
Brush and Floss Daily:
Like you, your kids need to care for their smiles each day. As soon as the first baby tooth arrives, start cleaning it twice a day, initially with a cloth or a small brush that fits over your finger. As they grow and more teeth arrive, upgrade to an age-appropriate toothbrush. Kids should clean their teeth for two minutes in the morning and again at night. You can assist your younger kids, and monitor your older ones to make sure they're cleaning their smiles as they should. Along with brushing, your little ones need to floss every night before bed, moving up and down each side of every tooth with floss tape or a floss pick. This removes the food particles that feed harmful bacteria, reducing the risk of plaque buildup, tooth decay, and gingivitis.
Avoid Sugary Snacks and Drinks:
Harmful oral bacteria love to break down sugary and starchy food and drink particles, the stuff left behind on and between our teeth. However, with a better diet you not only improve overall health, but smile health as well. Kids should enjoy more fresh fruits and veggies, as well as nuts, low-fat yogurt, sugar-free gum, and other healthy snack choices. Encourage them to drink more water, as sodas, energy drinks, sports drinks, and yes, even fruit juice, is linked to tooth decay. Don't let them nap or fall asleep with a bottle of milk or juice either!
See Our Team Every Six Months:
Twice a year your kids should visit our office for a checkup and cleaning. A checkup allows us to watch for signs of trouble and address them before they cause discomfort. A cleaning removes all plaque buildup to lower the risk of cavities and gingivitis. We also use these visits to help your kids understand the importance of oral health and to pick up better brushing and flossing techniques. If you have any questions about these visits, or if you would like to schedule a visit for your little ones, then contact our team today.
TALK TO SUNNY SMILES IN EL PASO, TX ABOUT CHILDREN'S DENTAL CARE
At Sunny Smiles in El Paso, TX, our team understands how to protect smiles of all ages from serious oral health problems. For more information on treating little smiles, contact your El Paso, TX, dentists at Sunny Smiles on Dyer Street by calling 915-859-7000.