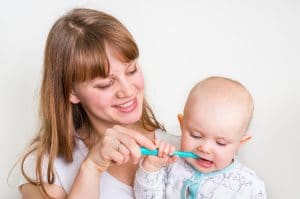 Routine daily care is essential for protecting little smiles of all ages from the onset of cavities, gum disease, and other serious oral health concerns. For children, this means regularly brushing and flossing each day to prevent serious plaque buildup. In today's blog, your El Paso, TX, dentists look at how to help your little ones brush their teeth properly.
The Type of Toothbrush
What toothbrush should a child use? First, let's take age into account. Babies usually need little more than cloth or a bit of gauze. There are also options that fit over a parent's finger. As your child reaches the toddler years, there are age-appropriate toothbrushes with popular cartoon and movie characters on them. You can also choose between manual or electric. For some kids, the electric option is fun, which makes them more likely to use them and brush properly. Otherwise, it doesn't matter which option you choose, as long as it's used!
Fluoride Toothpaste?
Children of all ages can use a toothpaste that contains fluoride, as this naturally-occurring mineral actually strengthens outer enamel and reduces the risk of tooth decay. For toddlers and young children, a tiny rice-sized blot is enough to properly clean the teeth. As they grow older, a pea-sized bit is all they really need to properly clean and protect their smiles. We would be happy to answer your questions about various products and which ones might be beneficial for young smiles.
Brushing and Flossing Techniques
Children should strive to reach every available surface, brushing back and forth for the sides and tops of the teeth, and using a circular motion to clean the front facing sides. Each session should take about two minutes and there are fun apps and podcasts available to help instruct and make the process fun. They can use floss picks or floss tape, as they long as they move them up and down the sides of each tooth, dipping below the gum line briefly to properly remove trapped bits of food parties. You can assist them as they get used to flossing and brushing too. If you have any questions about caring for smiles from home, then please contact or team today. You can also call to schedule a visit for a checkup and cleaning before the year ends, so you use your 2019 benefits and start 2020 with bright and healthy smiles!
SUNNY SMILES IN EL PASO TALKS ABOUT KEEPING SMILES HEALTHY
At Sunny Smiles in El Paso, TX, we want to help instill good oral hygiene habits and ensure your family stays free of cavities and gum disease. If you have question about our general and family dental care, then please call our East El Paso location on N. Zaragoza Road at 915-849-9000!