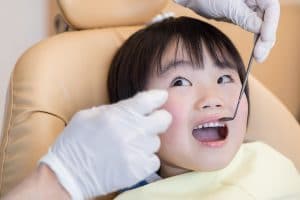 Our last blog focused on dental exams and why they're so important for people. In today's blog, your El Paso, TX, dentists would once again like to talk about checkups, but instead focus solely on our exams and cleanings for children. How does a child benefit from a routine exam, and when should they receive one?
How Often Should Kids See the Dentist?
When you little one is about age one, the first baby tooth should erupt. We recommend an initial visit within six months of this first tooth's arrival. Now the initial visit isn't really about treatment, it's a chance for the dentist to meet your child and make sure the teeth are erupting properly. Afterward, we will start recommending a visit every six months. If you didn't schedule a visit at this time, don't worry, we can still begin checkups and cleanings for your kid!
The Importance of a Checkup
When we examine the teeth, we use advanced technology to gain a clear and detailed view of their oral health. We can identify cavities in the earliest stages, watch for the onset of dental misalignment, and look for warning signs of gingivitis, teeth grinding, airway obstructions, and other issues that could impact your child's oral health. We then offer treatment to address these concerns and safeguard their oral health. If your child needs braces, we could refer them to a local and trusted orthodontist. If there is a cavity, we can offer treatment to protect the teeth. During the same visit, we also clean the teeth, which involves removing plaque buildup, a major factor in the onset of decayed and infected teeth. These visits have also been shown to reduce dental anxiety in children, and make them more likely to continue treatment in their adult years.
What If We Find a Cavity?
We know that baby teeth fall out over time, but if this doesn't happen until months or even years after a cavity forms, then your child could experience severe discomfort, premature tooth loss, and an increased risk of misalignment, as premature tooth loss impacts how the permanent teeth erupt. Should we find a cavity we will provide a minimal restoration. Also own as a dental filling, this metal-free restoration is shaded to match the color of the tooth and also halts the rate of decay, preventing painful infections. If your child complains about an aching tooth, then bring him or her in for an exam. Otherwise, be sure to see us every six months!
SUNNY SMILES IN EL PASO PROVIDES CHILDREN'S DENTISTRY
At Sunny Smiles in El Paso, TX, our team is ready to use preventive treatment and general procedures to ensure your child obtains a healthier smile. For more information on our children's treatment options, then contact our N. Zaragoza dental practice by calling 915-849-9000.