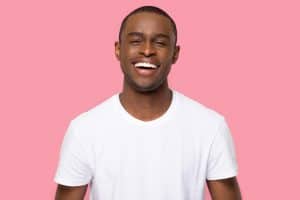 When we discuss cosmetic dentistry, we often focus on your teeth, with treatments like teeth whitening and dental bonding addressing problems with the color and shape. But what about your gums? After all, this tissue not only secures your teeth, but frames your smile as well. For people with excessive gum tissue, your El Paso, TX, dentists can provide contouring.
Gummy Smiles and Poor Periodontal Health
Often, excessive amounts of gingival tissue, known commonly as a gummy smile, could make your teeth appear small or uneven. You could also display too much gingival tissue when you smile, leading to embarrassment. However, swelling gums could also be a sign of trouble, especially if you also encounter soreness, redness, or bleeding when you brush and floss. This could mean you have either gingivitis or the early stages of periodontal disease, and treatment is needed to reduce inflammation, either preventing gingivitis or managing periodontal disease to avoid serious complications, such as adult tooth loss.
Correcting Your Smile
With gum contouring, we use advanced technology to target the excess tissues and remove them carefully with precision and accuracy. In the process, we reshape the gum line to help improve overall esthetics. The procedure only takes one visit to complete. After a day of rest, you can usually return to your normal daily activities. If you have periodontal disease, then we may use this procedure to remove the infected and diseased tissues from your smile, which helps close exposed periodontal pockets and allows healthy tissues to adhere to the teeth. Afterward, we can begin managing the disease with routine dental cleaning every three to four months, helping you avoid further discomfort and the risk of adult tooth loss.
A Smile Makeover
A smile makeover involves using a combination of cosmetic treatments to completely transform the appearance of your smile. Along with professional teeth whitening to remove stains, or the use of dental bonding and porcelain veneers to reshape teeth, we can improve the symmetry and esthetics of your gumline with contouring We also have a unique contouring procedure for your teeth, which helps address issues with the shape and surface of your smile. If you have questions about any of these procedures, and are interested in a more attractive smile, then contact our team today. We will perform a detailed exam to assess the causes and severity of your cosmetic complaints, and then recommend a personalized treatment plan for your smile.
TALK TO SUNNY SMILES IN EL PASO, TX ABOUT CONTOURING
At Sunny Smiles in El Paso, TX, our team can offer a more attractive smile with cosmetic treatment options. For more information on our cosmetic treatments, then contact your El Paso, TX, dentists at Sunny Smiles on Dyer Street by calling 915-859-7000.