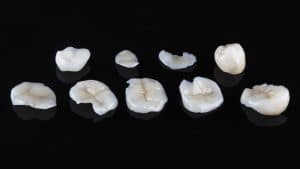 Restorative dentistry allows our team to repair both damage and serious oral health issues for kids and adults alike. For a long time, restoring a tooth meant receiving some form of metal restoration, which didn't exactly blend with your smile. Fortunately, your El Paso, TX, dentists can actually offer restorations that match the shade and shape of nearby teeth!
Signs of Trouble
When should you see your dentist? When a tooth becomes cracked, broken, or even if a minor chip develops, please let us know. Damage to the outer enamel could expose sensitive inner structure to bacteria, a factor in the onset of both tooth decay and infected teeth. If you begin to notice toothaches or tooth sensitivity, or if your kids complain about a persistent toothache, then schedule a visit. Pain that lasts for more than a day or two could point to the presence of an advanced cavity or possibly an infected tooth. The sooner we treat the issue, the sooner we can return smiles to full function, health, and beauty.
Dental Fillings
For most cases of tooth decay, our team places a restoration in one visit that not only provides durable repair, but looks natural as well. Our fillings are not made from metal, instead we use composite resin. A unique blend of glass and acrylic, this restoration can be shaded to match the color of the tooth. After we remove decay and clean the tooth, we will prepare and place this material. As we cure the composite resin under a light, we can shape and mold it. This option is safe for young children and adults alike. The final step involves polishing the tooth to offer a more lifelike appearance.
Crowns and Veneers
A crown is a restoration we create from ceramic and other lifelike materials. Crowns cover everything on the tooth above the gumline, and can be used to address decay, infection, cracks, chips, and even worn-down structure. Veneers are made from porcelain and cover the front and sides of the tooth. This restoration is mainly used to address esthetics. Both are created based on detailed impressions we take of your teeth, ensuring a comfortable fit. With proper care and attention, they can last decades to come. If you have any questions about repairing smiles for people of all ages, then please contact our team today. We would love to help your family continue to enjoy optimal oral health.
TALK TO SUNNY SMILES IN EL PASO, TX ABOUT RESTORATIVE DENTISTRY
At Sunny Smiles in El Paso, TX, we would like to help you and your family enjoy optimal oral health with lifelike repair options. For more information on restorative treatments, contact your El Paso, TX, dentists at Sunny Smiles on Dyer Street by calling 915-859-7000.