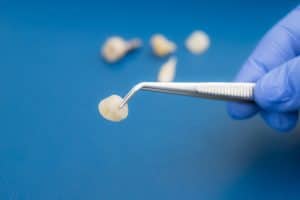 A dental crown is crucial for protecting smiles and addressing severe issues. If there is damage, or tooth decay, too serious for a filling or bonding treatment, then we can provide a lifelike solution. What steps will your El Paso, TX, dentists take to create and place one that not only repairs the tooth, but also offers a natural-looking restoration?
When We Prescribe Them
A crown may be recommended when a tooth becomes cracked or chipped as a result of an injury, or if teeth grinding has worn down a significant amount of structure and compromised the tooth itself. If advanced cases of tooth decay occur, or a tooth develops a painful infection or abscess, then a crown may be the last step in a root canal procedure. Since the restoration covers the structure above the gum line, we can use them to correct issues with the shape and color of the tooth. For those with one or more missing teeth, then they help by securing a dental bridge or completing a single tooth dental implant, helping you enjoy a full smile once more.
Ensuring a Natural Appearance
Each one will be custom-made to ensure a comfortable fit, and we often opt for lifelike materials to protect them. We often use porcelain to create them, as this material contains stain-resistant properties and can be shaded to match the color of surrounding teeth. The material is also translucent like tooth enamel, but can absorb serious bite forces and pressure. To create one, we start by removing structure from the tooth and then taking a detailed impression. Using the impression, we begin the process of designing and fabricating your custom restoration.
Placement and Maintenance
When you return for a second visit, we will place the completed restoration with a powerful bonding agent, helping it stay in place for decades to come with proper care and maintenance. To maintain your newly repaired tooth, and to protect your natural ones in the process, we suggest brushing your teeth twice a day for two minutes and flossing every night before the bed. You also need to cut back on sugary foods and drinks and also schedule a routine checkup and cleaning every six months. If you have any questions about repairing smiles or if you would like to schedule your next consultation, then contact our team today to learn more.
TALK TO SUNNY SMILES IN EL PASO, TX ABOUT RESTORATIVE DENTISTRY
At Sunny Smiles in El Paso, TX, our team would like to ensure you not only enjoy a healthier smile, but a more attractive one as well. For more information on restorative dental care, contact your El Paso, TX, dentists at Sunny Smiles on Dyer Street by calling 915-859-7000.