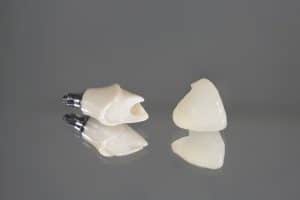 If you see your El Paso, TX, dentists with a cracked or chipped tooth, or if we find you have an advanced cavity or infection, then you may benefit from a dental crown. Not only is this restoration durable and strong, but we can take steps to ensure they also offer a lifelike appearance. How do we create and place a custom crown?
When Do I Need My Tooth Capped?
A crown may benefit a tooth that has become chipped, broken, or cracked. We also use them to lengthen teeth that have become worn down, often as a result of teeth grinding. Our team also uses them to address issues with a tooth's shape and color. If you have lost one or more teeth, then we may place them to anchor a dental bridge in place or to restore a single tooth dental implant.
Creating Your Crown
The restoration fits over the visible portion of the tooth, so we need to remove structure to make room for them. We do so and then take detailed impressions and measurements of your tooth. With this information, we can begin designing and crafting your crown. Using ceramic, we can create them from a material that not only absorbs bite forces, but can also be shaded to match the color of surrounding teeth. The material even contains stain-resistant properties as well! Once we complete your new restoration, you return to the office so we can check the fit, make any necessary adjustments, and then place them with a powerful bonding agent. In two visits, we can transform your smile!
Ensuring a Long-Lasting Restoration
What steps will ensure they last for decades to come? Well, the teeth a restoration is attached to are still susceptible to decay, infection, or gum disease. Routine care at home, including brushing and flossing daily, helps protect them from danger. You should also see our team for a checkup and cleaning every six months, so we can monitor your smile as a whole and make sure your restoration continues to properly restore your smile. If you have any questions about repairing smiles or about our approach to restorative dentistry, then please contact our team today to learn more. We don't want minor issues leading to serious decay or infection, or even causing a tooth to become lost. Instead, we want to return your smile to optimal health and beauty!
SUNNY SMILES IN EL PASO OFFERS SMILE REPAIR
At Sunny Smiles in El Paso, TX, our team can help you enjoy a healthy and functional smile again with a dental restoration. If you have questions about restorative dentistry, then you can contact our N. Zaragoza dental practice by calling 915-849-9000.