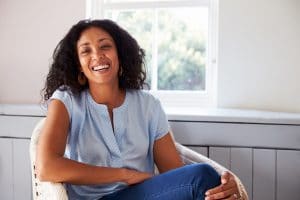 Your El Paso, TX dentist understands that when a patient has a cavity, they can worry about more than just the health of their tooth before and after treatment. You might be concerned with how dental decay might affect your tooth's ability to function, or if it puts you at greater risk for future problems. You can also feel some concern over the way you might look once treatment has concluded, particularly if the decay you suffer affects a visible tooth. Our practice can provide restorative dental work that addresses your oral health needs, while also preserving your smile. For many patients, the ideal solution will be to cover a tooth with a dental crown, which can be custom-made to imitate a tooth in need of protection.
A Crown May Be Needed If You Have An Injured Or Aching Tooth
Dental crowns are often used during treatments for patients when they have a dental injury, or when tooth decay is a concern. Cavities are sometimes treated with dental fillings rather than crowns – the approach your dentist takes in your case is dependent on how significant your issues with decay have become when you arrive for treatment. It is important that restorative work take place as soon as possible. Injured or cavity-stricken teeth can grow increasingly unhealthy over time, meaning you can experience more trouble by putting off care.
Making Sure Your Tooth's Health Is Fully Restored
During any procedure your dentist performs, the focus will be on fully restoring the condition of your tooth. A crown accomplishes this by covering your tooth completely above your gum line, in order to keep it protected from infection. This support also gives you more protection so that you can bite and chew without problems.
Other Steps Your Dentist Can Take To Protect Your Smile
If a tooth problem is serious enough to cause internal problems for your tooth, you may need a root canal treatment. In this scenario, care is taken to remove infected or damaged tissues before sealing your pulp, and providing you with a dental crown.
Your dentist is ready to do more than just treat problems as they arise. With regular dental exams, it becomes possible to continually address problems with your oral health before they call for restorative work.
Sunny Smiles In El Paso, TX Can Provide You With A Quality Dental Crown
At Sunny Smiles in El Paso, TX, your dentist can provide you with great care in the form of a dental crown! Our practice is proud to make quality dental work available to families in and around our community, and we make the health of your smile, and its look, a priority during your treatment. To find out more, you can reach our Northeast El Paso location on Dyer Street by calling us at 915-759-7000!