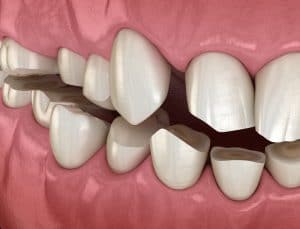 What happens when we grind our teeth? Well, in addition to driving our significant others crazy, as most episodes occur at night, regular teeth grinding, known as bruxism, could result in chipped, cracked, or worn-down teeth. To avoid these serious complications, your El Paso, TX, dentists can treat teeth grinding with a custom and comfortable oral appliance.
Causes and Complications
Why do we grind our teeth? Well, factors behind this common disorder may include tooth loss, injury to the face or jaw, high levels of stress in your daily life, and issues with your bite's balance. Dental misalignment could also be a factor. Unless treated, the constant pressure could begin to damage the teeth and expose sensitive inner structure to bacteria, allowing tooth decay and infection to develop, threatening the stability of your smile. To avoid pain and even a risk of tooth loss, you should seek treatment when you encounter the warning signs of bruxism.
When to Seek Treatment
Common warning signs vary, but could include soreness in the face or jaw, aches in your neck and shoulders, headaches and migraines, and tooth sensitivity and toothaches. Over time, the discomfort could grow worse and your smile's health could continue to suffer. When we examine your smile, we will look for signs of wear and friction on your teeth. From there, we can assess the cause and severity, choosing the most appropriate treatment option to help you stop grinding your teeth.
Possible Solutions
If misalignment is to blame, then we could discuss orthodontic treatment to improve the alignment of your teeth. In addition, improving bite balance is often possible by placing a custom crown or other restoration. We can replace missing teeth with a dental implant, bridge, or even a full or partial denture. However, the most common option is an oral appliance. We take detailed impressions and measurements of your entire smile, using the information to help design and craft an appliance that looks like a mouthguard. The device fits comfortably and is worn at night while you sleep. The device repositions the jaw to improve balance and alignment, easing pressure and putting a stop to bruxism in most cases. The appliance also acts as a barrier between your lower and upper sets of teeth, which helps prevent further damage to them. If you have any questions about tackling your teeth grinding, then contact our team today to learn more.
SUNNY SMILES IN EL PASO TALK BRUXISM TREATMENT
At Sunny Smiles in El Paso, TX, our team can identify bruxism and offer a unique treatment option without surgery or other invasive procedures. For more information on our preventive dental care options, contact our N. Zaragoza dental practice by calling 915-849-9000.