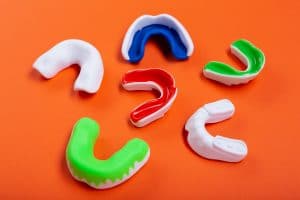 When our jaw joints undergo pressure and injury, then the onset of TMJ disorder and bruxism (teeth grinding) could begin. Eventually, you could suffer uncomfortable symptoms and even trouble opening and closing your mouth. In order to address the problem, your El Paso, TX, dentists may suggest an oral appliance in the form of a custom mouthguard.
The Dangers of TMJ and Bruxism
TMJ disorder forms when the jaw joints connecting our jaw and skull undergoes excessive pressure. Since these joints control the actions needed to eat and speak, this could lead to trouble fully opening and closing the mouth, as well as painful symptoms. Bruxism forms when we grind or clench our teeth regularly, placing enormous pressure on the teeth and in some cases, even cracking or chipping them, allowing decay and infection to develop. Untreated TMJ disorder could lead to bruxism and vice-versa. Possible causes could also include tooth loss, bite imbalance, dental misalignment, stress, and injury to the face or jaw.
Creating Your Custom Mouthguards
If we find signs of strain on the joints, and wear and friction on the teeth, then we may suggest an oral appliance. Created from detailed impressions and measurements we gather of your smile, the device will be worn as you sleep and repositions the jaw to ease the tension and pressure, preventing TMJ troubles. The same device also places a barrier between the upper and lower sets of teeth to avoid further damage. In addition to this comfortable oral appliance, we could also treat these issues with a custom-made dental crown, orthodontics, and changes to your daily routine.
When to See Your Dentist
When should you talk to your dentist about treatment? Common warning signs include headaches and migraines, as well as pain in the face, jaw, neck, or shoulders. If you grind your teeth, then tooth sensitivity or even toothaches could arise, as the teeth become damaged and decayed. Don't ignore these warning signs and risk damaged or lost teeth. We will perform a detailed examination to identify the possible presence of these concerns and then recommend the most appropriate treatment options. If you see our team now, we can offer treatments before your 2019 dental insurance benefits expire, and help you greet 2020 with a healthier and more comfortable smile! Contact our team today if you have any questions or concerns, we're ready to help.
SUNNY SMILES IN EL PASO PROVIDES CUSTOM APPLIANCES
At Sunny Smiles in El Paso, TX, we would love to help you enjoy healthier smiles, which includes treating common oral health issues, such as TMD and teeth grinding. We also have cosmetic and restorative treatments to repair any damaged or worn down teeth, such as dental bonding, fillings, or even crowns. If you have questions about preventive and general dental care, then you can contact our N. Zaragoza dental practice by calling 915-849-9000.