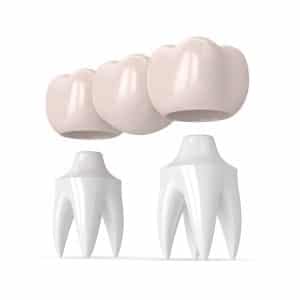 When we see a patient with between one and three missing teeth in a row, then we may recommend a dental bridge.  Not only does the prosthetic look natural, but they help you enjoy a full and functional smile once more. In today's blog, your El Paso, TX, dentists talk about your dental bridge options and why you should never ignore your missing teeth!
Dental Bridges
A bridge consists of the replacement teeth, which we refer to a pontics, with dental crowns attached to either end. Typically, we remove structure from the natural teeth on either side of the gap, and take detailed impressions and measurements, and place the crowns onto the prepared teeth to anchor the prosthetic in place. They will be crafted from strong materials, such a ceramic, which can absorb bite forces. The material is also stain-resistant, translucent, and can be shaded to match the color of surrounding teeth, ensuring a natural-looking replacement. The crown-secured options usually last between 10 and 15 years with proper care and attention.
Securing Them With Implant Dentistry
For a longer-lasting option, we may forgo removing tooth structure from surrounding teeth. Instead, the crowns will be placed onto dental implants. We insert the dental implants into the jawbone, where they act as new tooth roots. This saves the structure of natural teeth, and means the prosthetic could last decades, possibly even a lifetime. Implant dentistry can not only replace a single missing tooth or secure a bridge, but also provide fixed dentures that never slip and last much longer than normal removable options.
Benefits in the Long Run
By addressing your tooth loss, you limit the risk of misalignment, which could occur as teeth drift due to gaps in your smile. Preventing poor alignment alone can limit the risks of tooth decay and gum disease. Addressing missing teeth also improves bite balance and relieves pressure on the jaw joints, reducing the overall risk of TMJ disorder and bruxism (teeth grinding). You not only reduce the chances of further tooth loss, but also enjoy the ability to eat your favorite foods again and smile with confidence. If you have lost a tooth, or even if you have lost several, then contact our team today for a consultation. We will help discover the best option for addressing your missing teeth and help you enjoy a full, functional, and beautiful smile once more. If you have any questions or concerns, then please let us know today!
TALK TO SUNNY SMILES IN EL PASO, TX ABOUT TOOTH REPLACEMENT
At Sunny Smiles in El Paso, TX, our team is here to help you obtain a full and healthy smile once more. For more information on our dental prosthetic treatment options, contact your El Paso, TX, dentists at Sunny Smiles on Dyer Street by calling 915-859-7000.