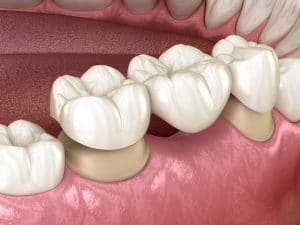 Losing your teeth can be embarrassing, and unless treated, could mean major problem for your smile's health, beauty, and stability. In order to address more minor cases of tooth loss, your El Paso, TX, dentists may suggest a custom dental bridge. But will this prosthetic look natural? What does creating and placing one involve?
Creating Your Prosthetic
We want to make sure your smile is not only functional, but attractive as well. So, your new prosthetic should reflect your unique facial structure and the appearance of your surrounding teeth. Which means each bridge we craft will be custom-made specifically for your smile. We start by removing structure from the teeth on either side of the gap in your smile. We then take impressions of these teeth, as well as the rest of your smile. Using the measurements and impressions we take, our team next designs and creates your new dental bridge. When we complete your prosthetic, you return to the office so we can place the crowns on either side of your new teeth on the prepared ones, securing your new teeth in place. The bridge will be created from lifelike materials to ensure a natural appearance!
The Dangers of Tooth Loss
Even minor tooth loss could pose problems for your ability to eat and communicate effectively. However, in addition to this you could develop misalignment as the nearby teeth drift from position. As a result, brushing and flossing could be difficult and you could endure negative impacts in your smile's appearance. Over time, this could lead to a greater risk of tooth decay and gum disease. Loss of one or more teeth could also upset bite balance, causing a higher risk of TMJ disorder and bruxism, which often causes jaw pain, toothaches and tooth sensitivity, damaged teeth, and headaches.
Keeping Them Strong and Bright
To preserve your new smile, we suggest you take time each day to brush and floss thoroughly. You should brush your teeth when you wake up and again before going to bed for about two minutes each session. You also need to floss around your natural teeth and your new ones, going up and down the length of every tooth and making contact with the gum tissue. You also need to clean the spaces between the top of your gums and the bottom of your prosthetic. If you have any questions about preventing tooth loss or addressing the gaps in your smile, then please contact our team today to learn more.
SUNNY SMILES IN EL PASO PROVIDES A NEW SMILE
At Sunny Smiles in El Paso, TX, we can offer a solution for the gaps in your smile with strong and durable dental bridge. If you have questions about our custom prosthetics, then you can contact our N. Zaragoza dental practice by calling 915-849-9000.