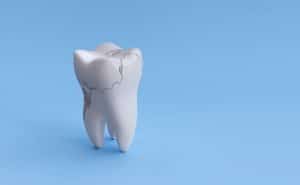 Our teeth are very strong, the enamel coating them in fact is the hardest substance in the human body. However, just because they're strong doesn't mean they're impervious to damage. If you chip a tooth, even if the damage appears very minor, then you should see your El Paso, TX, dentists for emergency dental care.
The Dangers of a Chipped or Broken Tooth
The enamel that coats our teeth acts as a protective layer, preventing harmful bacteria from gaining access to the sensitive inner layers of dentin, or the pulp, your tooth's nerve center. When a tooth becomes chipped to cracked, the bacteria gains access to the dentin and a cavity forms. Unless treated, the cavity will grow in severity until the tooth itself becomes infected, causing severe discomfort and for some, a risk of losing the tooth altogether. Repairing the problem does more than just improve smile esthetics, it protects your overall oral health as well.
Emergency Response and Treatment Options
Our East-side location is open Monday through Saturday starting at 9am, and out Northeast location is open Monday through Friday starting at 9am. With weekend and evening hours, we're here to help you with your dental emergency, which includes any damage or discomfort to your teeth and gums that isn't life threatening.
When you chip a tooth, rinse your mouth with warm water and use a piece of cloth or gauze to control any bleeding. You can also place a cold compress or ice pack against the side of your face to reduce swelling. If you can recover any pieces of your tooth, then place it in a small container or wrap it in tissue. Then bring it with you. If you can't, don't worry, we can still repair your tooth. For minor damage, we may be able to use composite resin, the same material used in our lifelike fillings, to repair the damaged area and restore your tooth, in one visit. For more substantial damage or fractures, we may instead create and place a custom-made dental crown.
Protecting Your Smile
To help reduce the risk of damage, be sure you maintain optimal oral health, which means brushing and flossing daily and regular visits for checkups and cleanings. These visits and actions help strengthen your smile and prevent issues that could weaken structure, such as cavities or infections. When placing sports, be sure you wear a mouthguard, which helps prevent damage and protects your smile.
TALK TO SUNNY SMILES IN EL PASO, TX ABOUT EMERGENCY DENTISTRY
At Sunny Smiles in El Paso, TX, our team is ready to offer you emergency treatment 24/7, so be sure to let us know when you sustain damage to your teeth. For more information on addressing chipped teeth, contact your El Paso, TX, dentists at Sunny Smiles on Dyer Street by calling 915-859-7000.