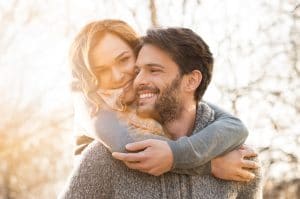 With the holidays just a couple weeks away, many of us are out shopping and getting ready to travel or spend time with friends and family. Part of this preparation will include making sure we look our best for these gatherings. Your El Paso, TX, dentists can help, as we offer an array of unique cosmetic treatments, including single-visit gum contouring!
When Do We Need Contouring?
Our gums frame our smile and have a huge impact on its appearance. If there is too much gingival tissue on display when we smile, this could make teeth appear small, uneven, or misshapen. In order to correct the issue, we need to alter the gum line. After all, no amount of teeth whitening or dental bonding is going to fix the picture when the frame is what needs work.
Treatment Benefits
With gum contouring, we use advanced technology to carefully and gently remove excessive tissue and reshape the gum line, contouring it to ensure the teeth appear normal sized and even. The procedure takes only one visit to complete and most patients return to normal activities after a day of resting. The technology we use ensures no need for sutures, a reduced risk of bleeding or infection, and often little to no need for anesthetic either! We will schedule follow-up visits to ensure the healing process is moving along smoothly.
Gum Health
The same technologies we use to improve the appearance of your gum tissue can also be used to combat periodontal disease. Unless treated, periodontal disease could lead to tooth loss and severe discomfort as it grows worse with time. However, with this procedure we can simply remove the diseased and infected tissues, allowing healthy tissue to attach to the teeth and reduce the depth of exposed periodontal pockets. This allows us to then manage the disease with routine cleanings and preventive care, safeguarding your smile against tooth loss and further discomfort.
Tooth Contouring
We also offer tooth contouring, which improves the esthetics of the teeth in a very different way. With tooth contouring, we gently buff and sand the outer structure to remove pits or grooves, smooth rough patches, improve tooth edges, and dull overly pointed portions. We can also correct minor damage and misshapen teeth, again all in a single visit. If you have any questions about our cosmetic treatments, or if you would like to seek treatment before the holiday season, then please contact our team today to learn more!
SUNNY SMILES IN EL PASO OFFERS COSMETIC CARE
At Sunny Smiles in El Paso, TX, or team is ready to make sure you enjoy a brighter and more attractive smile, often in as little as one visit. If you have questions about cosmetic dentistry, then you can contact our N. Zaragoza dental practice by calling 915-849-9000.