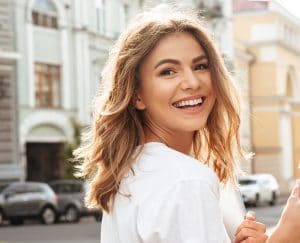 There's a lot to consider when it comes to improving your smile's appearance, and in some cases, that includes considering more than just your teeth. For example, if you have a gummy smile, then cosmetic gum contouring may be an important part of your cosmetic smile improvement. At our El Paso, TX, dental office, we can custom-design a conservative gum contouring treatment plan to help improve the symmetry and appearance of your gum line, which can also have several significant benefits to your oral health.
When to Consider Gum Contouring
Gum contouring is a minimally invasive procedure designed to create an even, symmetrical, and attractive appearance for your gum line. If you have a gummy smile, meaning your gums cover more of your teeth surfaces in some areas than it does in others, then gum contouring may be the best option for addressing it. If your teeth are healthy and properly aligned, then gum contouring can bring out their natural beauty instead of making your smile seem uneven due to a crooked gum line. However, even if you don't have a gummy smile, you may benefit from gum contouring as part of a larger cosmetic smile makeover. After placing porcelain veneers or dental crowns, gum contouring can help ensure that your gum line remains even and accommodates your smile's new look.
Are There Benefits to Your Oral Health?
In addition to improving your smile's appearance, which can have a direct, positive impact on your self-confidence and quality of life, contouring your gums can also have an important benefit to your long-term oral health. Much like the alignment of your teeth, the symmetry of your gum line plays a significant role in your ongoing dental hygiene and preventive dental efforts. Oral bacteria may have an easier time working their way underneath gums that aren't even, and keeping your gum line clean with your toothbrush and floss may be more difficult.
What if You Need Other Cosmetic Treatment?
During your cosmetic smile consultation, we can help you determine if gum contouring may be a good idea for improving your smile. We can also help you determine if your smile may benefit from other cosmetic treatment to address one or more other aesthetic concerns. For example, if your gum line seems uneven because one or more teeth are slightly out of alignment, then you may also benefit from one or more custom porcelain veneers to improve their appearance. After your veneers have been placed, gum contouring may be a good idea to ensure optimal final results.
Sunny Smiles in El Paso Provides Gum Contouring
At Sunny Smiles in El Paso, TX, our team would like to help protect your smile's health and appearance. If you have questions about our approach to cosmetic dentistry, then please call our East El Paso location on N. Zaragoza Road at 915-849-9000!