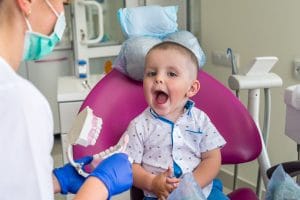 At some point, we all visited the dentist for the first time. For some, this was in early childhood, but others may not have visited a dental professional until they were much older. The American Dental Association recommends a visit as early as age one, and your El Paso, TX, dentists agree!
The First Baby Tooth
We agree with the American Dental Association: Kids should see the dentist within six months of the first baby tooth's arrival. The initial visit is all about getting to know you and your children, examining their smiles and making sure teeth are erupting as they should. We can discuss how to care for a baby's smile, which does include cleaning their teeth daily with a cloth, piece of gauze, or a special toothbrush that fits over your finger. After all, babies are still vulnerable to decay, as falling asleep or napping with a bottle could coat the teeth in milk or juice, increasing the risk of tooth decay and other issues.
Routine Visits
Following the initial visit, your little one should see us every six months, just like grown ups do. We can then monitor the smile as it grows and develops, watching for signs of trouble, such as cavities, developing misalignment, gingivitis, or other concerns. These benefits also provide an opportunity for our team to instill good dental hygiene habits and routine visits have been shown to reduce dental anxiety in kids as well. The cleaning portion of the visit enables our team to remove all plaque and tartar from the teeth, which is significant for reducing the risk of tooth decay and other oral health issues.
Brushing and Flossing At Home
Our team also wants to help you understand how to better care for your little one's smile at home. You will need to assist your babies and toddlers, and occasionally monitor your older children to ensure they're brushing and flossing as recommended. We suggest brushing teeth twice daily, once in the morning and again at night, using an age-appropriate toothbrush and a tiny blot of fluoride toothpaste. Flossing is also essential before bed, as this removes the bits of food a toothbrush's bristles may not be able to reach. If you have any questions about caring for little smiles and keeping them healthy, or if you would like to schedule a checkup and cleaning before the holidays, then please let us know!
TALK TO SUNNY SMILES IN EL PASO ABOUT KEEPING LITTLE SMILES HEALTHY
At Sunny Smiles in El Paso, TX, we can offer treatment and preventive care to ensure your little ones enjoy a healthy smile and learn good dental hygiene habits. If you have questions about our approach to kids dentistry, then you can reach our East El Paso dental practice on 10039 Dyer St., at 915-859-7000!