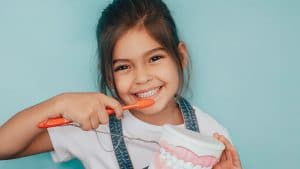 We often talk about checkups and cleanings, especially with the end the year coming up. Using your dental insurance benefits before December lets you take advantage of them before they expire, and start the New Year with a healthier smile. In addition to adults, children also benefit from seeing their El Paso, TX, dentists for a routine dental cleaning.
Cleanings for Kids
Just like adults, kids need to have their teeth professional cleaned every six months, starting at around age two. During these visits, we will employ an ultrasonic scaling device and a manual tool to remove all plaque and tartar from the surface of the teeth. Doing so prevents the bacterial buildup from causing cavities and gingivitis to occur, ensuring little smiles stay healthy and bright throughout the year. We will of course ensure your children feel comfortable during the process, and carefully explain each step of the procedure.
Exams and Preventive Care
In the same visit, we will carefully your child's smile as well, looking for the warning signs of common oral health issues like cavities, gingivitis, and misalignment, so treatment can be administered to correct the issues before they put the health and stability of the smile at risk. If we discover a cavity, then we can offer treatment with a minimal restoration to prevent the onset of infection or the premature loss of a tooth. Remember, even though baby teeth fall out eventually, this could happen months or even years after the cavity forms, so don't delay treatment if we find a cavity or your child complains about aching or sensitive teeth.
Cleaning Teeth at Home
Smiles also need to be cleaned at home in between these office visits. Routine brushing and flossing help limit how much plaque can accumulate, safeguarding the smile against cavities and other issues. Children need to have their brushed twice a day, once when waking up and again before bed. They should use an age-appropriate toothbrush and a toothpaste that contains fluoride. Flossing is also vital as soon as teeth sit side-by-side and should be done before bed at night. Or team can educate you and your little ones about proper brushing and flossing techniques, ensuring your family enjoys optimal oral health. If you have any questions, contact our team today. You can also schedule a visit before the year ends, using your 2019 dental insurance benefits before they expire.
TALK TO SUNNY SMILES IN EL PASO ABOUT CHILDREN'S DENTISTRY
At Sunny Smiles in El Paso, TX, our team can help your little ones enjoy optimal oral health and instill good dental habits. If you have questions about our approach to children's dentistry, then you can reach our East El Paso dental practice on 10039 Dyer St., at 915-859-7000!