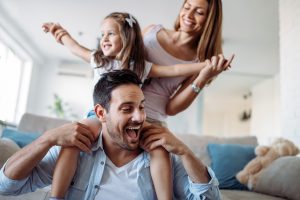 Routine care, both at home and in office, is crucial for families in El Paso, TX, helping them enjoy optimal oral health and avoiding the onset of serious concerns, such as tooth decay and gum disease. In today's blog, our team would like to look at our oral hygiene treatments and offer advice for keeping smiles strong from home.
Checkups and Cleanings
You and your children all benefit from having your teeth examined and cleaned every six months. For children and adults, we will use advanced technology to carefully examine the teeth and gums, identifying possibly areas of concern before they lead to serious problems that require more extensive treatments. We tend to look for cavities, infections, gingivitis, and gum disease. For adults, we will also watch for TMJ disorder, bruxism (teeth grinding), and oral cancer. The earlier we identify these issues, the sooner we can treat them! We also clean the teeth during these visits, removing the plaque buildup that has accumulated on the teeth and lowering the risk of cavities and poor gum health in the process.
Fillings and Restorative Care
If we find a cavity, we can offer a minimal restoration for kids and a dental filling for adults. Both are created using composite resin, a durable material that contains no metal and can be shaded to match the smile. We can perform endodontic treatment to address infections, and place lifelike crowns to repair serious decay or damage. If you have dental insurance, we can complete the procedures before the year ends and allow you to use your 2019 dental benefits before they expire! We also have cosmetic and general treatments to help improve the beauty and health of your smile.
Homecare and Signs of Trouble
Always let us now if you encounter toothaches, tooth sensitivity, or soreness and bleeding in the gums. These could be signs of trouble and require treatment. Fortunately, we can offer exams, treatments, and more all in-house! Our team would also like to discuss proper brushing and flossing, as routine homecare is just as vital as regular visits for checkups and cleanings. Kids and adults benefit from brushing their teeth twice a day, and using a toothpaste that contains fluoride. Flossing is also crucial for people of all ages, as this removes what a toothbrush often cannot reach. If you have any questions, or if you would like to schedule a visit, then please contact our team today.
TALK TO SUNNY SMILES IN EL PASO ABOUT PREVENTIVE DENTAL CARE
At Sunny Smiles in El Paso, TX, we can help work with families in the community to help them enjoy optimal oral health. If you have questions about our approach to family dentistry, then you can reach our East El Paso dental practice on 10039 Dyer St., at 915-859-7000!