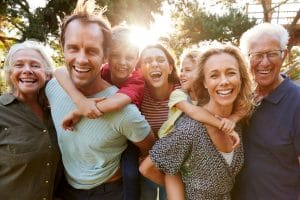 We don't just offer dentistry for adults, we can help people of all ages, from toddlers to teens, adults and seniors. With our comprehensive approach to dentistry, your El Paso, TX, dentists can provide care to improve oral health, preventing painful complications and tooth loss. Learn more about the treatments we offer for families in our community.
Children's Dentistry
With routine checkups and cleanings, we can help monitor your child's smile as he or she grows. We watch for the earliest warning signs of trouble, including tooth decay, gingivitis, and developing misalignment. Addressing the concerns early often limits the need for more extensive treatments down the road, and we can help by offering advice on proper brushing and flossing. Routine treatments have also been shown to lower dental anxiety and instill good oral hygiene habits. If a child does have a cavity, we have lifelike minimal restorations to prevent dental infections and tooth loss.
Cosmetic Care
With the holiday season coming up, many people are starting to worry about their appearance. After all, we want to look our best at that office party, and that includes our smile! If you have dental discoloration, we can provide professional teeth whitening to break up and remove stains. We have also cosmetic treatments to address the shape of your teeth or repair minor damage, such as dental bonding and porcelain veneers. We can even correct gummy smiles with gum contouring!
Restoration and Missing Tooth Replacement
If you have pain in your tooth, then we can treat decay and infection with lifelike fillings, custom-made crowns, inlays and onlays, and endodontic care. These treatments also address cracked and chipped teeth as well. In fact, our office also has emergency care for people dealing with damaged or avulsed (knocked-out) teeth. But what if you have one or more missing teeth? For those with tooth loss, we can use implant dentistry to provide durable and strong tooth replacement that lasts for many years to come. Dental implants can address a single missing tooth, to be used to secure a denture that never slips when you eat or speak. Don't let tooth loss lead to poor alignment, an aged appearance, or additional missing teeth, talk to our team about possible solutions. If you have any questions about the treatments we've discussed, or if you ready to schedule a visit for you and your family, then please contact our team today.
TALK TO SUNNY SMILES IN EL PASO ABOUT FAMILY DENTISTRY
At Sunny Smiles in El Paso, TX, our team can help your entire family enjoy optimal oral health and brighter smiles. If you have questions about family dentistry, then you can reach our East El Paso dental practice on 10039 Dyer St., at 915-859-7000!