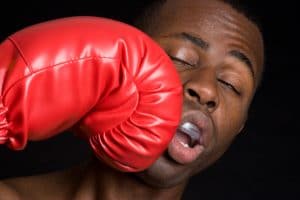 In our last blog, we discussed a common emergency situation, a chipped tooth. But what if you find a tooth is knocked out completely? How do you respond? How quickly should you see your El Paso, TX, dentists? Let's find out how this happens, and what you can do to help protect your smile in the aftermath!
How Does a Tooth Become Knocked-Out?
A tooth may become knocked-out if you're involved in a serious accident or injury, or sometimes when playing sports or taking part in other athletic activities. Once a tooth is knocked out, be sure to recover it quickly. Never touch the root portions, only pick it up by the crown, the part that is typically visible. You can rinse it under gently running water to remove foreign debris, but take care not to accidentally remove any tissue. The tooth can be placed back into the socket. Biting down gently will hold it in place. If this isn't possible for you, then put the tooth in a glass of milk or salt water and bring it to the office with you.
When to See Us
Try to make an appointment as soon as possible. In the meantime, remember that cloth or gauze can control your bleeding, and a cold compress against the side of your face can assist with swelling. You can also take a pain reliever to ease discomfort. You can call or text our East-side location on 1788 North Zaragoza road at 915-849-9000, or reach our North-east location by calling or testing 915-759-7000. We accept walk-ins Monday through Saturday starting at 9am at our East-side location, and you can also set up a visit by clicking the Book Now button on our website. In the future, wearing a mouthguard when playing sports can help safeguard your teeth against injury!
Replacement Options
In many cases, we will be able to reset the tooth and restore your smile, which is why seeing us as quickly a possible is paramount. However, should you have a tooth knocked-out and not recover it, then we can still help. Using dental bridges and dental implants, we can replace one or more missing teeth and return your smile to optimal health, function, and beauty. If you would like to learn more about our approach to emergency dentistry, or if you have a missing tooth or two, then please contact our team today. We would love to help you enjoy optimal oral health!
TALK TO SUNNY SMILES IN EL PASO ABOUT EMERGENCY DENTISTRY
At Sunny Smiles in El Paso, TX, we can provide emergency dental care to repair serious damage and prevent complications. Don't ignore minor damage or missing teeth, please contact our team right away. If you have questions about our emergency treatments, then you can reach our East El Paso dental practice on 10039 Dyer St., at 915-859-7000!