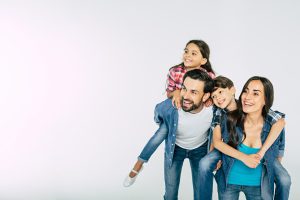 At Sunny Smiles, your El Paso, TX, team doesn't just address children's dental care, or only offer treatment for adults. Instead, we can provide quality care, with all of our procedures under one roof, for the entire family. In today's blog, we're taking a look at the care we provide our patients, and how they can take steps to protect their teeth from home as well.
Routine Preventive Visits
Preventive dentistry aims to help strengthen smiles and reduce the risk of common oral health concerns. Both kids and adults benefit from preventive care! For example, a dental checkup employs advanced technology to help our team gain a detailed picture of your oral health, allowing us to spot possible areas of concern in the earliest stages, so we can treat them before they cause painful complications. Both children and adults need to have their smiles cleaned every six months, with routine visits starting at around age two for children. During the same visit, we will provide cleanings for all patients, removing the plaque that has accumulated on the smile and reducing the risk of cavities and gum disease in the process. Of course, we also have lifelike restorations, such as fillings and crowns, to help treat cavities and infection in smiles both young and old.
Care for Kids
For children with cavities in their baby teeth, we may offer a minimal restoration to stop the progress of decay and prevent infection or premature tooth loss. Ensuring baby teeth fall out on schedule and not prematurely due to decay and infection means lowering the risk of misalignment in little smiles. We can also discuss preventive procedure aimed solely at children, such as fluoride treatments and dental sealants, both options meant to help limit the risk of tooth decay by strengthening enamel and preventing food from becoming stuck between the hard-to-reach rear teeth.
Ensuring Optimal Oral Health at Home
We also take these appointments as an opportunity to discuss homecare. In addition to seeing us every six months, people of all ages need to maintain good oral hygiene at home, which limits plaque buildup and the risk of cavities and periodontal problems in between office visits. Both kids and adults need to start their day by brushing teeth for two minutes. At night, everyone needs to floss before bed. If you have any questions about our approach to family dentistry, then contact our team today.
TALK TO SUNNY SMILES IN EL PASO ABOUT FAMILY DENTISTRY
At Sunny Smiles in El Paso, TX, we offer complete family dentistry under one roof. If you have questions about our preventive, general, cosmetic, and restorative treatments, then you can reach our East El Paso dental practice on 10039 Dyer St., at 915-859-7000!